The International Rescue Committee "[engaged] in collusive behavior and misconduct…."
(US Department of Justice)
The International Rescue Committee (IRC for short), one of nine refugee resettlement contractors*** that do business with the US State Department, has agreed to repay US taxpayers nearly $7 million to settle a fraud case.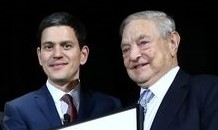 The fraud, which occurred during the Obama administration, was discovered in its USAID program to supposedly help Syrian refugees in Turkey.
Seven million is peanuts for the IRC!
If you follow my other blog Refugee Resettlement Watch you know that this contractor, a fake non-profit refugee agency, is financially the richest of the nine contractors having received $440 million in one recent year from American taxpayers.  See 2018 IRS Form 990.
Note on that IRS Form 990 that (moneybags) Miliband pulls down an annual salary and benefits package of nearly $1 million.
And, the IRC is a politically active refugee agency (as are all of the nine) having worked against the Trump administration and advocated for the election of Joe Biden.
Here is the Department of Justice press release outlining the fraud case and the settlement agreement.
The International Rescue Committee ("IRC") Agrees to Pay $6.9 Million To Settle Allegations That It Performed Procurement Fraud by Engaging in Collusive Behavior and Misconduct on Programs Funded by the United States Agency for International Development
WASHINGTON – The Justice Department announced today that the International Rescue Committee ("IRC") has agreed to pay $6.9 million to settle allegations under the False Claims Act related to United States Agency for International Development ("USAID")-funded programming for beneficiaries affected by the conflict in Syria.

The settlement announced on March 16, 2021, is part of a civil resolution involving the U.S. Attorney's Office for the District of Columbia, USAID, and the USAID Office of Inspector General (OIG).

IRC is a global humanitarian aid, relief and development nongovernmental organization that provides emergency aid and long-term assistance to refugees. It is headquartered in New York, New York. In the early years of the conflict in Syria, IRC received USAID funding for humanitarian assistance programming, specifically to provide emergency cross-border humanitarian assistance to internally displaced persons located within Syria.

USAID's OIG conducted investigations in Turkey into allegations that IRC staff participated in a collusion and kickback scheme with a Turkish supply ring, which included bid-rigging activities in the selection of goods and services contracts for cross-border humanitarian relief into Syria. USAID OIG and the USAO-DC Civil Division also investigated allegations that IRC staff received kickbacks, steered bid procurement tenders, and allowed conflicts of interest between staff and suspect vendors. The investigation revealed that conduct by IRC staff resulted in the procurement of goods at unreasonably high prices, which were subsequently invoiced to USAID from October 2012 to December 2015.

USAO-DC Civil Division and USAID OIG thoroughly examined all source documents including contracts, proposals, contract terms, and invoices, in the lead-up to IRC's agreement to pay the United States $6,934,500 to settle the False Claims Act allegations.

We are happy to bring this case to resolution and will continue to work with Offices of Inspectors General to ensure that humanitarian aid dollars that are targeted for humanitarian assistance for displaced persons are not compromised by lax oversight controls but are used appropriately to help those in dire need," said Acting United States Attorney Channing D. Phillips.

Acting USAID Inspector General Thomas J. Ullom stated, "This settlement sends a strong message that USAID-funded implementers must have systems in place to detect, deter, and prevent fraud in humanitarian assistance programming. Aid organizations that lack proper monitoring and oversight controls over their procurement processes put taxpayer dollars at risk and compromise the delivery of critical assistance to those in need. USAID OIG's global investigative operations will continue to shine a light on and drive consequences for fraud affecting USAID programming."
Fraud is not rare in the refugee resettlement industry as we noted here last month.
Fraud Uncovered in Special Refugee Admissions Program for Iraqis
***For New Readers these are the nine federal refugee contractors who worked to put Biden and Harris in the White House; are lobbying for millions of illegal aliens to be transformed into legal voting citizens; and they have succeeded in getting the new administration to promise to raise the ceiling for refugee admissions to 125,000 for next year FY2022—that is the highest cap in 29 years.
The 62,500 cap you may have been hearing about is for the remainder of FY21.  FY21 ends in less than 7 months. So far Biden is dragging his feet  on signing necessary documents to open the spigot.
The contractors are in my opinion fake charities because they are largely paid by you, the taxpayer, for their work of changing America by changing the people, and in so doing, are putting struggling Americans last!