It was earlier this month when we saw that the destruction of a Black Lives Matter sign at a church in Missouri turned out to have been the work of— wait for it—a black man.
Sorry move along, nothing to see!  No White supremacists lurking there.
Missouri Hate Crime? Church's BLM Banner Ripped and Windows Broken
Let's see what happens with this latest gasp! shocker.  In the increasingly diverse Howard County, Maryland someone had the audacity to paint over the world BLACK on a Black Lives Matter sign at a Middle School.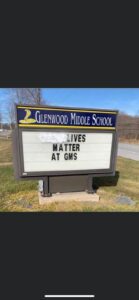 ***Update*** A reader found a photo of the defaced sign!
The "disturbing crime" left only the words LIVES MATTER, a racist phrase if there ever was one!
Of course my first question is why is there a BLM sign at any public school?
And, that brings me back to my post of a couple of days ago when I wondered out loud why anyone is sending their kids back into public school when parents have just been given the opportunity to make the break!
And this one from a week ago:
Why Does Any Conservative Want their Kids in Public Schools?
Here is CAIR's press release as the hunt intensifies for those wily White supremacists!
CAIR Condemns Racist Graffiti at Md. School, Welcomes Hate Crime Probe
(BALTIMORE, MD, 3/16/21) – The Maryland office of the Council on American-Islamic Relations (CAIR) today welcomed a hate crime investigation into racist graffiti reportedly discovered at Glenwood Middle School in Howard County, Md.The incident took place Saturday when the word "Black" in a Black Lives Matter marquee was spray-painted over.

[….]

CAIR's Director in Maryland Zainab Chaudry.

Howard County Public Schools' Superintendent Michael Martirano issued a statement condemning the incident and confirming that the graffiti was quickly removed. He added that the incident was being investigated by police as a hate crime. It read in part: "We believe the lives of our black and brown students and staff should not be diminished and devalued in this way. We reiterate our support for the fact that Black lives matter."

"As schools resume in-person instruction after a long and difficult year, students deserve to know that they will be returning to a safe, inclusive learning environment in which hate won't be tolerated," said CAIR's Director in Maryland Zainab Chaudry. "We look forward to learning the outcome of the investigation, and appropriate consequences for the perpetrators of this disturbing crime."
Taking a trip down Memory Lane…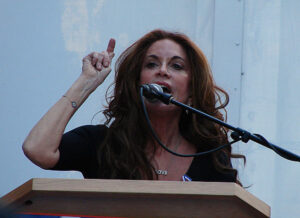 Back in 2013, several Maryland conservative Tea Party activists, me included, put on a conference in Annapolis and our featured speaker was the legendary Pamela Geller.
Of course CAIR busied itself trying to kill our gathering and our FREE Speech by intimidating the hotel where we had a contract. Fortunately the hotel stood firm and our conference went on.
They also attempted to intimidate other speakers planning to speak at the event.
I wrote about it here at my blog Potomac Tea Party Report, which I am delighted to see is still there! Chaudry had just appeared on the scene at that time.
CAIR-MD intimidating speakers at MD CAN (again!); boosts registrations!