Just so you know that Minnesota isn't the only place in America where refugee contractors and the US State Department salted a Somali population, Tennessee got them too!
This is the kind of story I was thinking about when I first began this blog!
To counter the 'new American' fluff stories I wanted to show that some of those migrants, supposedly simply "looking for a better life," are actually getting a better life at great expense to us, both financially and culturally.
Lately I've been distracted by so much news involving political frauds and crooks, so it's good to have a reminder of why this blog came into being.
From The Tennessee Conservative (hat tip: Gary):
Pair of Middle Tennessee Students Accused Of Stealing $114,000 From University
Two Middle Tennessee State University students have been charged with stealing more than $114,000 from the university.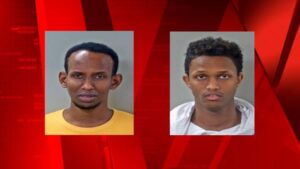 The Tennessee Bureau of Investigation announced Wednesday that Mohamed Gure and Mohamed Osman were indicted by a Rutherford County grand jury for fraudulently obtaining student activity fee payments from the university over a three-year period.

The Tennessee comptroller's office, which helped TBI with the investigation, said Gure and Osman stole $114,145 between November 2017 and November 2020.

Gure was charged with one count of theft over $60,000, one count of theft over $10,000, 30 counts of forgery and two counts of criminal simulation. Osman was charged with one count of theft over $60,000, 28 counts of forgery and two counts of criminal simulation.

The comptroller's office said Gure and Osman were presidents of MTSU's Somali Students Association when they submitted at least 85 false invoices for reimbursements totaling $82,200 of student activity fee funds. Many of the invoices were for payments to nonexistent vendors, the comptroller's office said.

[….]

"MTSU should ensure its Student Organizations and Service Office carefully reviews supporting documentation before reimbursing student organizations," Comptroller Jason Mumpower said in a statement. "Our investigators also noted several instances in which MTSU officials were not following their own guidance when processing reimbursements."

Gure and Osman were arrested and booked Tuesday into the Rutherford County Jail. Gure's bond was set at $60,000, and Osmon's bond was set at $50,000.
Middle Tennessee State University is located in Murfreesboro, 33 miles from Nashville. The Somali Student Association facebook page is here.
Did any of you have any idea that public colleges (funded by taxpayers!) were shelling out this kind of money for student organizations?
I have to say that some of these 'new Americans' are clever scammers, but not quite clever enough this time!