We welcomed another 'new American' who wants to kill us!
Planned a knife attack at a local Dunkin' Donuts!
And, what is up with Queens and Islamists?
See my post yesterday about two Muslim women in Queens planning attacks on their fellow Americans, now this "kid," as his lawyer describes him, had similar plans.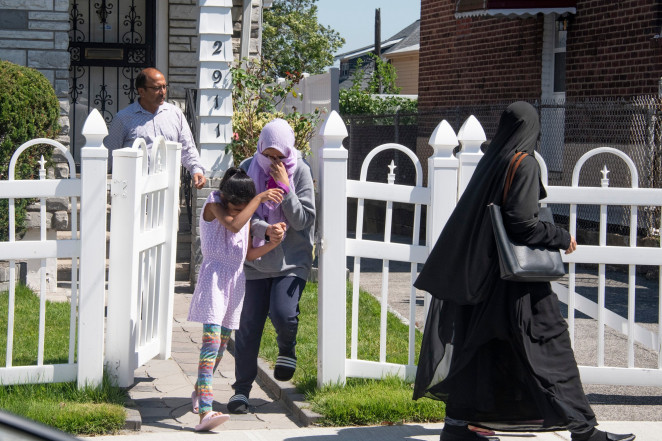 You may have seen the story last Friday, but just in case!
From the New York Post:
Teen who plotted 'ISIS knife attack' planned to escape on his scooter: prosecutors
A reclusive, braces-wearing teen who lived behind a white picket fence with his devout Muslim family was secretly an ISIS sympathizer — and was plotting to launch a knife attack at a Dunkin' Donuts and other targets near his Queens home, the feds alleged Friday.

Awais Chudhary, 19.  I wonder, did he know the women who plead guilty last week in Queens?  

His getaway vehicle of choice? A Razor scooter, federal prosecutors in Brooklyn say.

Awais Chudhary, 19, planned to strike at the Dunkin' just blocks from his East Elmhurst home, and was also targeting pedestrian bridges over the Grand Central Parkway to the Flushing Bay Promenade and the World's Fair Marina, prosecutors said in court papers.

Chudhary had texted back and forth with two undercover agents he believed were ISIS terrorists, sharing his attack plans and telling them that he'd pledged his allegiance to the terror organization, the feds said.

At one point, he allegedly sent one agent an ISIS diagram of the human body that he'd found online, showing where best to plunge a knife into a victim, the feds said.

He also allegedly asked for guidance on constructing a small "bucket bomb," which he hoped to fling from an overpass onto vehicle traffic below.

[….]

Chudhary was arrested in Queens on Thursday as he tried to pick up items he'd ordered online for his attacks: a tactical knife, a mask and a special wearable strap to hold a cellphone he'd hoped to use to livestream the carnage, the feds said.

The wiry, bearded teen was ordered held without bail at his Brooklyn federal court arraignment Friday on charges of providing material support to a terrorist organization.
Unbelievable, his lawyer downplays his alleged attack plans by saying it was only a Dunkin Donuts he was targeting!
"This is not something where he's masterminding something in the subway or Times Square. He's looking at a Dunkin Donuts," his court-appointed lawyer, Samuel Jacobson, argued in asking that bail be set at $100,000.

The plot was just a "fantasy," the lawyer insisted.

[….]

"By all accounts he's a kind, shy, caring young kid who's living with his family."
By the way, we don't admit huge numbers of Pakistanis as refugees, so I always wonder how did we get so many.  Which legal avenue are they accessing to get here in such large numbers?
There is a detailed recitation of the case against him, here at the US Justice Department.