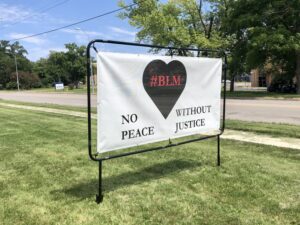 Kansas City Presbyterian Church members who were proudly displaying a banner in support of Black Lives Matter were living in fear as their banners were being destroyed and a vandal was breaking windows on a regular basis.
That is until police set up surveillance and caught the racist hatemonger.
The story is from February (hat tip: Jim), but it doesn't matter if I am late posting the news because this kind of news won't spread beyond local reports. I just checked, and yup, KC news only.
And, of course we know why!  It doesn't fit the narrative the mainstream media is attempting to send.  LOL! Imagine some white dude in a MAGA hat was vandalizing this justice-seeking "diverse" church.
Incidentally, it is for this kind of story that I originally set up 'Frauds and Crooks'—to challenge the immigrant-diversity-brings-strength narrative the Left is constantly peddling!
From KCTV-5:
(be sure to watch the video)
CAUGHT IN THE ACT: Police conduct surveillance at KC church that was target of vandalism, make arrest
KANSAS CITY, MO — Wednesday night, Kansas City police conducted surveillance from inside a church that has repeatedly been the target of vandalism for months.

This is a screenshot of the KCTV-5 report and the only photo I could find of the racist hater who was destroying BLM signs. Chidera Okolo is a Nigerian name but there is no mention of how he came to be living here as a 'new American.'

Church members are hopeful the destruction and their worries have finally come to an end thanks to an arrest. "As fate would have it, he did strike again and he was apprehended," Ruling Elder at South-Broadland Presbyterian Darron Story said.

Kansas City police have investigated numerous reports of smashed windows and an attempted arson at the South-Broadland Presbyterian church.

Vandalism at the church began back in November of last year when someone damaged their Black Lives Matter sign. Then someone began smashing nearly every window that could be reached including 16 windows in one night.

"It's been frightening to be honest with you to know that someone would go to such lengths to vandalize our building," Story said. The suspect kept breaking windows in their nursery.

[….]

Wednesday night a police officer watched surveillance cameras from inside the church's security office as another officer waited outside out of sight. They saw the suspect walk up to the church carrying a baseball bat. He was seen swinging it. Then officers heard two loud bangs.

As officers tried to arrest Chidera Okolo, police say he used the bat to strike an officer two times. A Taser was used and Okolo was eventually taken into custody. Investigators say he was wearing clothing that was consistent with the clothing worn by the suspect during previous vandalism at the church. He's charged with assault and armed criminal action.
And that dear readers is probably the last you will hear about Chidera Okolo, not because he will be deported, but because he will likely be released into American society, maybe next-door to you!  After all, he only assaulted a police officer.