The January 6th event at the US Capitol has likely slipped from your personal radar screen.  Could that be because it's a tangled legal web or maybe because the mainstream media has moved along now that Biden's legal eagles are faltering a bit in making their "insurrection" case.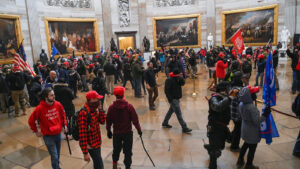 The case they are attempting to make is that certain pro-Trump conservative groups had a well-organized plan to attack the US Capitol on January 6th to halt the certification of Biden as the next president of the United States, and possibly kill lawmakers.
They are having trouble finding a plan and judges are noticing.
Maybe you noticed this AP story making the rounds in newspapers large and small.  The story appeared in my local paper on Sunday.
Prosecutors struggle with consistent story in Jan. 6 cases
BOSTON (AP) — There's little doubt the Oath Keepers were planning for something on Jan. 6. The question at the heart of the criminal case against its members and associates in the attack on the U.S. Capitol is: What, exactly, did they intend to do?

Authorities suggested for weeks in court hearings and papers that members of the far-right militia group plotted their attack in advance in an effort to block the peaceful transition of power. But prosecutors have since said it is not clear whether the group was targeting the Capitol before Jan. 6.

Fellow Obama-era US Attorney love birds! I spent some time searching for a photo of the zealous Justice Department attorney Kathryn Leigh Rakoczy. Although I found no professional pic, I did find this fluffy puffy New York Times story about her marriage to a co-worker in 2015, both 33, who married at the Woman's National Democratic Club in Washington. Why this news warranted a NYT story is beyond me. https://www.nytimes.com/2015/05/03/fashion/weddings/first-due-diligence-then-romance.html

"The plan was to unlawfully stop the certification of the Electoral College vote … and the plan was to be prepared to use violence if necessary," Assistant U.S. Attorney Kathryn Rakoczy said during a hearing this month. But the Oath Keepers "did not know precisely the way in which force and violence might be needed to support this plan," she said.

Authorities are still combing through a sea of evidence in what they say is likely the most complex investigation ever prosecuted by the Justice Department. More than 300 people are facing federal charges and more are expected. The most serious charges have been brought against 10 people described as members and associates of the Oath Keepers and several members of another far-right extremist group, the Proud Boys.
Rakoczy over her skis?
But as the sprawling investigation has unfolded, prosecutors have sometimes struggled to maintain a consistent narrative and had to walk back statements made in court hearings or in papers. It has created an opening for defense attorneys to try to sow doubt in the case.

"The government presented a theory (without evidence) that there was a weeks long plan to invade the Capitol," an attorney for one of the Oath Keepers, Jessica Watkins, wrote in a recent court filing. "There was no such plan."

In one case, prosecutors declared in court documents in January there was "strong evidence" the pro-Trump mob aimed to "capture and assassinate elected officials." The Justice Department quickly clarified it had no such evidence, blaming it on a miscommunication between prosecutors.

After she was pressed by a judge in a recent hearing, Rakoczy conceded authorities "do not have at this point someone explicitly saying, 'our plan is to force entry into the Capitol in order to stop the certification,'" but cautioned that the investigation is ongoing.

[….]

Prosecutors have also apparently been unable to get on the same page about what to say to the press.

A judge recently scolded the Justice Department over a "60 Minutes" interview during which the prosecutor who was leading the investigation suggested some of the rioters could face sedition charges. Former acting District of Columbia U.S. Attorney Michael Sherwin's interview appeared to violate Justice Department rules and Sherwin is now under internal investigation, a prosecutor told the judge.
See also Politico on March 12th….
Judge orders pretrial release of key Oath Keeper charged in Capitol attack
The decision is a setback for the Justice Department as it seeks to show that some elements of the Jan. 6 attack on the Capitol were part of sophisticated and organized cells intent on violently blocking the transition of power.
Rakoczy argued that Thomas Caldwell, a 65-year-old Navy veteran who never entered the Capitol on January 6th, remain in custody saying:
…. that Caldwell presents a risk of violence because he and his allies expressed continued belief that the election was stolen even after Jan. 6.

"Those factors still exist for them," said assistant U.S. Attorney Kathryn Rakoczy, "that the current political order is something that is problematic and should not be followed."
Basically she is saying Caldwell should remain in custody because he still believes the election was stolen!
The judge disagreed and released Caldwell to home detention saying that the government's evidence "falls short of the burden they need to prove he's a danger to the community if released pending trial."
The Conservative Treehouse has a story on the government's faltering arguments here a few days ago:
Media Starting to Admit Federal Prosecutors Have Scant Evidence Against January 6th DC Protestors as Judges Start Asking Questions
According to the AP story this case "is likely the most complex investigation ever prosecuted by the Justice Department" so there is a lot at stake for the Dems, for Biden and for up-and-comers like Assistant U.S. Attorney Kathryn Rakoczy.
Is "complex" just a nice way of saying that they are having trouble proving their case that what we witnessed was a well-planned effort to overthrow our government that would justify a witch hunt and constrain our freedom—freedom of speech and assembly.
Oh, and by the way, what happened with Hunter's laptop? Or, the Russia, Russia, Russia hoax? And, where is Durham?