Oh boy, if there was ever a reason to get your kids out of the clutches of these evil teachers and their minions, it is this!
***Update*** It is happening in North Carolina too!
Repeating myself!
Why Does Any Conservative Want their Kids in Public Schools?
Here is the headline at the Daily Wire on Tuesday. This will make you sick!
Teachers Compile List Of Parents Who Question Racial Curriculum, Plot War On Them
A group of current and former teachers and others in Loudoun County, Virginia, compiled a lengthy list of parents suspected of disagreeing with school system actions, including its teaching of controversial racial concepts — with a stated purpose in part to "infiltrate," use "hackers" to silence parents' communications, and "expose these people publicly."

Loudon County, VA is just a few miles down the road from where I live. I drive through its beautiful countryside often. But, it is apparently populated by some very mean (rich) people.

Members of a 624-member private Facebook group called "Anti-Racist Parents of Loudoun County" named parents and plotted fundraising and other offline work. Some used pseudonyms, but The Daily Wire has identified them as a who's who of the affluent jurisdiction outside D.C., including school staff and elected officials.

The sheriff's criminal investigations division is reviewing the matter — but the group's activities might be no surprise to top law enforcement because the county's prosecutor, narrowly elected with the help of $845,000 in cash from George Soros, appears to be a member of the Facebook group.

Secret communications reviewed by The Daily Wire do not offer any evidence of racism by the group's targets. Their opponents were apparently those who objected to, sought to debate, or were even simply "neutral" about "critical race theory," a radical philosophy opposed by many liberals and conservatives but increasingly embraced by governments.
Continue here for all the gory details and incredible reporting! The Daily Wire names names too!
Fox News has the story here:
Virginia parents, teachers group accused of 'racketeering,' intimidating conservative parents
Teachers, parents and other members of a private Facebook group in Loudoun County, Virginia have been accused of compiling a list of names of district parents who oppose "critical race theory" and other progressive, raced-based classroom programs, according to the director of a local Republican political action committee.

Members of a Facebook group called the "Anti-Racist Parents of Loudoun County" have been accused of compiling a list of outspoken conservatives in order to track, hack and "doxx" them – or even intimidate them into self-censorship.

The group also contains teachers, school board members, elected officials and other "prominent members of the left-wing elite in Loudoun County," according to David Gordon, director of the Virginia Project, a Republican PAC.
And, don't miss Tucker Carlson's interview with one of the parents who has been targeted by the mean/rich people he calls the 'Cancel Culture Commandos.' 
I love it!  One of his admonitions to fight their kind is to use mockery (ridicule) something I mentioned here in my Fight Back series.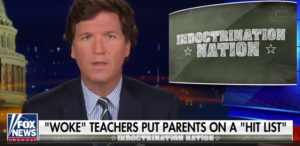 Virginia parent on 'hit list' for questioning critical race theory in school
https://www.msn.com/en-us/video/tunedin/virginia-parent-on-hit-list-for-questioning-critical-race-theory-in-schools/vi-BB1eHhRA
And btw, Candace Owens is right!