It looks like in less than his first one hundred days, Biden has an Islamic terrorist attack on his hands, but you will likely never hear those words uttered.
Just a nut with a gun, move along, nothing to see.
Of course, a week ago the nut with a gun was a white guy perpetrating a hate crime against Asians.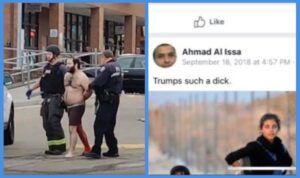 This week it's a 'new American,' a Syrian Muslim, whose innocent victims are all white and you likely won't see the phrase "hate crime" anywhere outside of conservative media.
Oh, don't get me wrong, the Left will rage, but their fury will be directed at the weapon and not the man. (Biden will have his excuse.)
The Syrian immigrant is just a nut who had gone over the edge, driven there by Islamophobic America. And, they may go one step further and blame it on (understandable to them) pent-up Trump hatred.
Here is just one of many stories you will see today (this one at CBS) about the slaughter quoting Biden's reaction: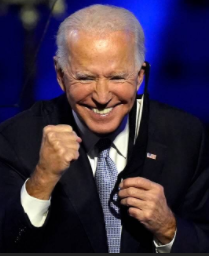 At the White House, President Biden said another city has been "scarred by gun violence" and called on Congress to pass gun control measures. "I just can't imagine what the families are feeling, the victims whose futures were stolen from them, from their families, their loved ones, who know have to struggle to go on and try to make sense of what's happened."
There was a delay by authorities in announcing the name of the suspect, so a bunch of Lefties went crazy on social media blaming whitey for the shooting.
See the Washington Examiner op-ed:
Ahmad al Aliwi Alissa isn't a 'white man,' so can we make assumptions about what motivated him?
We know now that the man who shot up a grocery store Monday in Boulder, Colorado, is an immigrant from Syria named Ahmad al Aliwi Alissa. In the context of recent history, this means there's reason to think he might be a Muslim terrorist. But saying that aloud will get you called a racist by the media.

For now, we'll just have to pretend that this is another "lone wolf" who in no way fits into the totally not-real pattern (according to the media) of mass violence perpetrated by Muslim extremists in places as far-flung as Mumbai, Rouen, and Chattanooga and as close as Miami, San Bernardino and New York.

If Aliwi Alissa were white, we could at least assume, without any evidence, like the media are doing with the recent killing spree in Atlanta, that this was an act of white supremacism. Instead, it looks like we're back to square one.
Gasp! Maybe he was a pro-Trump anti-masker! Opinion writer Eddie Scarry continues….
Of course, before the shooter was identified by police, liberals had been very eager to draw early conclusions about him. They were 100% certain he was white and perhaps even an anti-masker — i.e., a Trump supporter.

I'm serious. Liberal journalist Kurt Eichenwald *** mused on Twitter that the details might reveal that the shooting, which left 10 people dead, was an episode of "anti-masker violence."

Meena Harris, the niece of Vice President Kamala Harris, tweeted immediately after the shooting that "violent white men are the greatest terrorist threat to our country." She anticipated that Aliwi Alissa might be a real terrorist, but not the kind that Democrats would rather not acknowledge.
But, speaking of nut jobs….
***Get a load of where this Leftie "journalist's" head is!
At Breitbart:
Kurt Eichenwald's COVID Freakout: 'I Want to Find an Antimasker and Beat Them to Death'
(Islamic terrorists, not so much…..)
Eichenwald thinks the country is insane!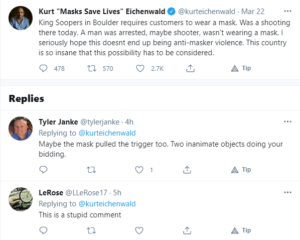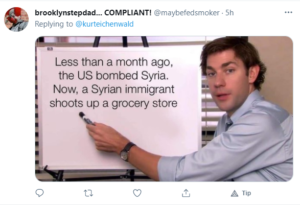 Is there a chance in hell that we will hear the truth if this later tweet speculation, that Biden provoked an Islamic terror attack, turns out to be on the mark?
There is so much news and commentary about this horrible event and I have a doctor appointment today with little time to look further.  So please send some links with updates via the comment section here at 'Frauds and Crooks.' 
I would love to know if anyone sees anything about how his Syrian family came to be living here.
And, of course, pray for the innocent victims' families.
Some updates from readers:
https://www.zerohedge.com/political/boulder-shooter-threatened-fake-hate-crime-charges-against-classmates-he-attacked
The return of the American Jihadi
https://amgreatness.com/2021/03/23/colorado-gunman-ahmad-al-issa-attacked-king-soopers-on-the-5th-anniversary-of-islamic-terrorist-attack-in-brussels/
https://www.frontpagemag.com/fpm/2021/03/muslim-terrorist-capital-isis-shot-supermarket-daniel-greenfield/
Endnote:  Do you think libertarian Alex Nowrasteh is still pimping for more Syrian refugees? See my post yesterday.
Trump was Right! Jihadists Attempting to Get Across our Southern Border