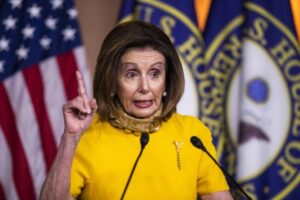 These Q people (whoever they are) sure have Nancy (and the FBI?) in a tizzy.
Check out Psyops 101! (just saying!)
Is she attempting to make up for her failures in advance of January 6th?
***UPDATE***  REST EASY! 7:30 PM AND NO ATTACK ON NANCY'S ARMED GUARDS TODAY.  She looks so foolish getting spoofed by a bunch of creepy Q guys!
If you haven't heard the news, here is Gateway Pundit's story:
More Insanity: House Shuts Down Thursday Session Over Garbage Claims of Pro-Trump Militia Attack
More on the story at the Washington Times:
Capitol Police say they have identified a militia threat to breach the Capitol on March 4
The U.S. Capitol Police said Wednesday that it has uncovered a possible plot by a militia group to breach the Capitol on March 4, the date QAnon conspiracy theorists believe former President Donald Trump will return to power.

In a statement, the Capitol Police said it is "aware and prepared for" any potential threats toward members of Congress or the Capitol complex.

"We have obtained intelligence that shows a possible plot to breach the Capitol by an identified militia group on Thursday, March 4," the statement read. "We have already made significant security upgrades to include establishing a physical structure and increasing manpower to ensure the protection of Congress, the public and our police officers."
And another report from CBS:
Only the House went into recess, the Senate will be at work.
Intel bulletin warns of potential for violence at Capitol March 4 and House scraps Thursday session
The U.S. Capitol is the target of a potential plot by a militia group to attack Democratic lawmakers on March 4 and remains a target for domestic violent extremists, according to a new intelligence bulletin issued by the FBI and Department of Homeland Security obtained by CBS News.

Nancy's armed guards.

"As of late February, an unidentified group of militia violent extremists discussed plans to take control of the U.S. Capitol and remove Democratic lawmakers on or about 4 March and discussed aspirational plans to persuade thousands to travel to Washington, DC, to participate," the bulletin reads.

It also notes that Acting U.S. Capitol Police Chief Yogananda Pittman said militia groups have expressed a desire to blow up the Capitol when lawmakers are attending the President Biden's first presidential address to a joint session of Congress, which has yet to be scheduled.
Continue reading here.
Don't forget, in early January, the FBI warned that there would be "armed" pro-Trump rioters at every state capital in advance of the Inauguration of Biden/Harris and clearly the FBI was spoofed.  See what I said here.
Meanwhile, not to be outdone by the Trump (ha! ha!) militia, the Antifa kids are going to go all-out worldwide on Saturday, March 6th.
They must be experiencing withdrawal since they haven't caused much violence in recent months, except for a little bit on the Left Coast where elected officials tolerate them.
Remember Chairman Joe says Antifa is just an idea!
Antifa Violent National Autonomous Day of Action Planned – The Kids Won't Be Quiet, They're Going To Start A Riot