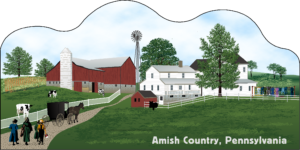 Eighteen-year-old Linda Stoltzfoos had not been seen since last June when her family reported her missing.  She was walking home from church in the Bird-in-Hand section of Lancaster in the heart of Pennsylvania's Amish country.
Some early media accounts speculated she had run away from her community.  The go-to position for woke types?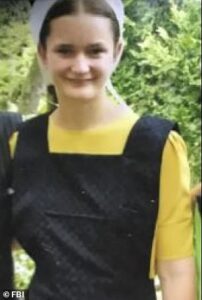 You may have seen this story.  I usually prefer to post news you might not see elsewhere, but this one, although widely covered, really got to me.
Perhaps that is because the Amish have chosen to live a quiet God-centered life just so they could be separate from the world's evil doers.
After reading several accounts of what happened earlier this week when the young woman's body was found, I'll go to my usual first choice media outlet for cases like this—the UK Daily Mail.
The man, the alleged killer, was already behind bars and charged with murder.  Even without the body, they have the goods on the "career criminal" thanks to extensive police work, DNA evidence, witnesses, cell phone data tracking, and surveillance camera evidence.
None of the reports say how authorities found the body, but I am guessing the evil creep gave them the tip as part of a plea deal to help save his hide.
Body wrapped in tarp and buried in 3ft grave IS missing Amish girl, 18, who vanished on way home from church: Remains were found behind workplace of man charged with murder
Human remains found during a search Wednesday are that of the missing Amish teenager who disappeared in Pennsylvania last summer, officials believe.

Linda Stoltzfoos, 18, was last seen walking home from a church service in the Bird-in-Hand area of Lancaster on on June 21 last year. She never returned home.

Justo Roberto Smoker had been adopted as a child by a family who gave him every opportunity. https://heavy.com/news/2020/07/justo-smoker/
In December last year Justo Smoker, 34, was charged with criminal homicide. Officials said then that the suspect's DNA was discovered on the victim's stocking, which had been found buried in the woods alongside her bra.
He had moved her body
Lancaster County DA Heather Adams said Thursday they now believe Stoltzfoos was killed within hours of her kidnap and initially buried at that location before her body was moved to where it was found Wednesday.
The remains were found buried more than three feet down and wrapped in a tarp behind Dutchland Incorporated, the former workplace of Smoker in a rural area in the eastern part of Lancaster County, she said.
A a dress, bonnet and shoes matching what Linda was last seen in were also found. Prosecutors noted that Wednesday marked exactly 10 months since Stoltzfoos disappeared."
An autopsy is to be performed today.
Some reports I read indicated that Smoker's car had been seen in the area in the days before Linda went missing as if he was out looking for a victim.
As is the usual case, we are not told if Smoker, who was supposedly living on the street when he was adopted, was born in this country.