But, at least in some states Republican governors are saying NO!
"I do not want our kids harmed as the result of President Biden's bad policies."
(Nebraska Governor Pete Ricketts)
One Republican Governor who apparently doesn't mind helping Biden out of the border crisis mess is never-Trumper and Jeb Bush pal Republican Governor Larry Hogan of Maryland.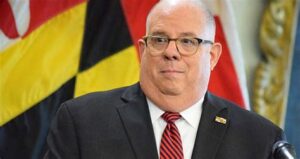 Or, does he even know that an organization in our state, which received $55 million in the last 12 months from the federal Office of Refugee Resettlement specifically to care for the UAC kids, is using Maryland's foster care system to place the mostly teenaged 'children' (who have so-far found no relative in America willing to take them) into Maryland homes?
Makes me wonder what Lutheran Immigration and Refugee Service (LIRS) is doing with $55 million (75% of their federal boodle) that is for the children if they are simply placing them in other taxpayer-funded foster care as this news at CBS suggests.
From CBS Baltimore:
For months now, we've seen images of federal facilities packed with thousands of unaccompanied minors at a time when there are a record number of children reaching the southern border, most coming from Central America. The sheer volume of children is overwhelming the federal government's resources with thousands of children packed into facilities never meant to handle this amount.

Krish O'Mara Vignarajah, LIRS CEO previously was a candidate for governor of Maryland and before that she worked for Michelle in the White House.

But one Baltimore based organization, Lutheran Immigration and Refugee Services, is working to move kids out of those facilities and into the homes of families eager to help.

[….]

"Our focus is getting these children out of Customs and Border Protection facilities," said Krish O'Mara Vignarajah***, CEO of LIRS.

[….]

LIRS pairs kids with foster families across the country, including dozens here in Maryland.

[….]

But in the meantime, Vignarajah says the need is still great as the children continue to arrive at the southern border. "We have seen unprecedented numbers of children coming across the border and so we need more parents than ever before and so if anyone out there is willing to open up their home and hearts, these children could use their care," she said.
Other state leaders ARE putting American children first!
From Pew Trusts:
(Just so you know, until a few short weeks about the 'children' illegally crossing our borders were referred to as Unaccompanied Alien Children, however a Biden administration edict now directs all media to refer to them as Unaccompanied Migrant Children, or simply Unaccompanied Children! Here Pew does what they are told!)
Republican Governors Block Unaccompanied Migrant Children
FORT WORTH, Texas — The federal foster care system was unprepared to house the record nearly 19,000 unaccompanied children who came to the United States in March, so the Biden administration asked some states to temporarily house them.

Republican governors in Iowa, Nebraska, South Carolina, South Dakota and Wyoming said no.

"This is not our problem," said Iowa Republican Gov. Kim Reynolds. "This is the president's problem. He's the one that has opened the border and he needs to be responsible for this and he needs to stop it."

The governors claim that unaccompanied children would displace those already in state foster care or limit states' ability to make new placements.

"Nebraska is declining their request because we are reserving our resources for serving our kids," Nebraska Gov. Pete Ricketts said in an April 13 news release. "I do not want our kids harmed as the result of President Biden's bad policies."
Who is paying?
But federal officials note that care providers for unaccompanied children are paid via federal grants and operate separately from state child welfare systems.
Is LIRS paying the families directly out of their federal payola?  If so, they need to explain it!  And, explain who is monitoring the care the illegal alien kids are getting once placed in foster care homes.
Of course as Pew admits there are still costs to state taxpayers:
Caring for unaccompanied children does require some limited state resources, because states license and monitor foster care providers contracted by the Office of Refugee Resettlement, the federal agency in charge of housing unaccompanied minors.

However, there currently are no federally funded foster care providers for unaccompanied minors in any of the five states where Republican governors have expressed concerns, U.S. Department of Health and Human Services records analyzed by Stateline show.
Pew goes on and on consuming many column inches on the subject of bed space and how much, or how little, Trump left us with when the Dems stole the 2020 election.
Contractor middlemen….
Pew reports something we already knew (at least for LIRS and the USCCB).
Foster care providers who care for unaccompanied children include the United States Conference of Catholic Bishops, Lutheran Immigration and Refugee Service, BCFS Health and Human Services, Upbring, and Urban Strategies.
But, still unclear is how does this contract system work? And, why are middlemen even necessary?  Couldn't the feds just send money directly to state agencies willing to participate?
I wondered where Endeavors is in all of this? That is another give-or-take $500 million for housing the 'children.'
There is much more at Pew.
I guess we can conclude that our tax dollars (to care for the illegal alien kids) go through a bunch of contractor middlemen masquerading as non-profits (skimming off generous salaries and office overhead) as they go about looking for states willing to put unaccompanied alien children into their state's foster care system thereby displacing needy American kids.
As I have been saying all along, federal refugee contractors put Americans Last!
Is that what your governor is doing as well?
*** I just had a look at a recent IRS Form 990 for LIRS, and Vignarajah is pulling down an annual salary and benefits package of a quarter of a million (apparently a pay cut from the previous CEO who left under a cloud).
Since LIRS is about 87% federally funded, they are a fake non-profit.  LOL! You can be assured that this 'religious' federal contractor is not passing the plate on Sundays to pay for their 'charitable' work.
See this post I wrote a year ago at RRW about Krish and her hubby, the Washington DC Leftie power couple, working another angle—we must welcome more migrants of all stripes due to global warming!
And, somehow that is going to help America's wildlife and our great outdoor spaces—say what?
Refugee Advocates Join Forces with Major National Wildlife Protection Group