That is what the Associated Press reported yesterday when announcing that a Wilmington Convenience Store owner is headed to the slammer.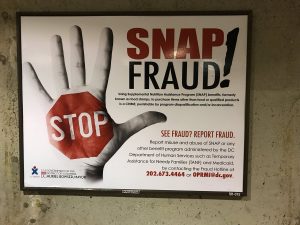 New American, Debasish Muhuri, has been sentenced to 14 months and was ordered to repay US taxpayers $1.7 million in restitution for bilking the SNAP program.
According to the AP, he used the standard practice for stealing from the food stamp program which was designed to feed poor people, but instead is now used regularly by crooks running convenience stores and their patrons looking for easy cash.
Here is what AP said at Delaware Online:

Muhuri and his wife owned the "Mama" and "Mama Convenient/Uniform" stores in Wilmington.
Authorities say that between 2014 and 2017, Muhuri illegally bought customers' food stamps for cash, normally paying only half of their value.
He then redeemed the benefits at full value from the government and pocketed the difference.

I've been following these schemes off and on for nearly 12 years after I became aware of  the fraud in the county where I live. That store owner, Mohammad Khan, was ultimately arrested and sentenced to time in prison as well as ordered to pay restitution.
However, the jail time is usually short and I've never seen a case where the convicted scammer was deported.
I have dozens and dozens of posts at Refugee Resettlement Watch about food stamp fraud. Click here if you want to see some doozies.
A favorite story from 2011
One of my all time favorites was this one from Waukegan, Wisconsin back in 2011. The story was reported in the Chicago Sun-Times, but as expected, that story is no longer available so it's a good thing I captured some of it.
The crooks, Khaled Saleh, 46, and Fatima Saleh, 35 were arrested after Fatima tried to make a run for it with a suitcase full of cash while dragging her mother behind her.

After a north suburban couple's grocery was searched during a food stamp and nutrition program fraud investigation, the woman was caught trying to flee with more than $350,000 in a suitcase, federal prosecutors claim.
The couple, who own and operate Sunset Food Market in Waukegan, allegedly defrauded the federal food stamp and nutrition programs of more than $500,000 over the last two years, according to a release from the U.S. Attorney's office.
[….]
Agents executed a search warrant at Sunset Market on April 26. After the search, Fatima Saleh went to her apartment and agents observed her leaving a short time later with a suitcase and her mother, the release said.

The Salehs used the same method as Khan had done where I live, and Delaware's Debasish Muhuri did recently.
Customer with SNAP benefits comes in and wants cash. He or she sells benefits at 50 cents on the dollar. Customer walks away with cash (often for drug money!) and the manager/owner submits the full dollar for reimbursement by the government (well, by you and me, the taxpayers).
Reporter Katherine Rodriguiz at Breitbart recently cataloged her top nine food stamp fraud stories from 2018, here.  But, you need to follow links back to see the names of the perps.
So, again, why are we kept in the dark about Debasish Muhuri's nationality and immigration status? Is he here legally? And, if so through which legal program did he become a new American? If we knew how these criminal minds were entering the US, maybe we could fix the loopholes.