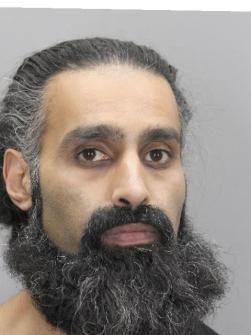 My headline is the headline of an e-mail alert sent out to residents of Northern Virginia after the arrest of 39-year-old Mumtaz Rauf for allegedly filming a teenage girl in a Fairfax mall dressing room.
See my earlier post here.
Quoting from the alert (hat tip: Cathy):
Detectives are asking for the public's help identifying victims from video recordings found on the phone of 39-year-old Mumtaz Rauf. Rauf was arrested December 24th for the unlawful filming of a minor at the Forever 21 store in Fair Oaks Mall.
Detectives have been working diligently since Rauf's arrest to identify the victims, as well as the stores where the unlawful recordings took place. So far, we've found approximately 60 female victims on over 100 videos in fitting rooms from Rauf's cell phone, with several of them appearing to be juveniles.
The videos we've recovered were taken between December 15th and December 24th.
Currently we know some of the recordings took place at Forever 21 and H&M at Fair Oaks Mall. We also believe some of the videos may have been taken at the Fair Lakes Old Navy. It is still very early in the investigation and there are more stores in the videos that have yet to be identified.
So far the locations and approximate time frames we have been able to identify are:
December 22, 2018:
1:15pm – 2:10pm, Fair Lakes Old Navy
2:50pm – 3:20pm, Fair Oaks Mall H&M
3:40pm – 4:15pm, Fair Oaks Mall Forever 21
4:25pm – 5:45pm, Fair Oaks Mall H&M
December 24, 2018:
12:30pm – 2:00pm, Fair Oaks Mall Forever 21 and H&M
There is also a time period from 9:15pm-10:00pm on December 22 where we believe he was possibly at the H&M and Old Navy at Tysons Corner Center.
[….]
There were other inappropriate video recordings found on Rauf's phone, including several videos where he secretly filmed up a woman's skirt. Detectives continue to analyze evidence in an effort to positively identify all the victims and the locations where the crimes occurred.
[….]
We are also investigating whether illegal images have been shared or placed on the internet.
[….]
Rauf is currently behind bars with no bond on unrelated drug charges.
[….]
We've set up a dedicated phone line at 703-246-4600 for anyone who thinks they may have been filmed by Rauf in a fitting room between December 15th and December 24th.

Imagine seeing those dates, times and places and knowing you were in a dressing room there at that very time and that your image might be being viewed around the world.
Ladies, I assume you will be examining the walls of every dressing room you enter probably forever!
Fairfax County Police held a press conference yesterday afternoon.  If I learn more, I'll update this post.
As is to be expected, there is no information about Rauf's nationality or immigration status, surely the police have that information, so why not tell the public?