You probably saw this news last month.  I know I saw it in several places because more news outlets have come to discover this type of fraud usually involving convenience stores and those Mom & Pop gas stations with the small grocery attached.
(Last year CNS News published a very useful report about how most SNAP fraud occurs in small grocery stores/convenience stores.***)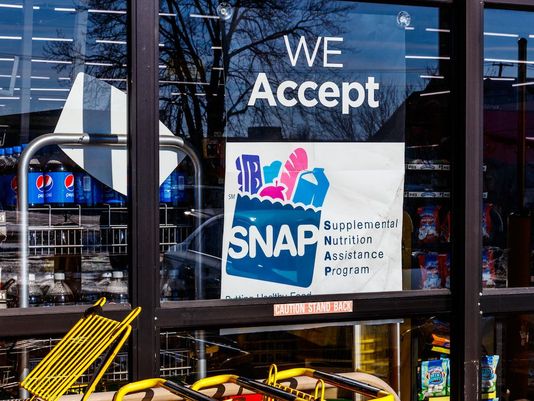 I suspect the prevalence of "new Americans" behind the counters of these small stores has something to do with the E-2 investor visa our government gives out regularly to foreign 'investors.'
See the list of countries from which we are importing new American businessmen.
With an investment sometimes less than $100,000 a Pakistani, for instance, can buy a small store with the help of US lawyers who walk them through the process of getting in here with an investor visa.
Seriously search E-2 investor visa and you will find pages of law firms advertising their prowess in getting immigrants set up in business.
But many of the new American entrepreneurs aren't willing to wait to build up their enterprises the old fashioned way, they have become experts at ripping off the US taxpayer—like these crooks who plead guilty in Arkansas last month.
From the Arkansas Democrat Gazette,
3 guilty pleas entered to food-stamp fraud in Arkansas
Raja Khani Zaman and his son Haroon pleaded guilty Wednesday before Western Arkansas Chief U.S. District Judge P.K. Holmes III to conspiracy to traffic in Supplemental Nutrition Assistance Program [food stamps] benefits, conspiracy to commit money laundering and filing false income-tax returns.
Another man, Ahmed Zaman, pleaded guilty to conspiracy to traffic in food-stamp program benefits.
After the plea hearings, all three were released on $5,000 signature bonds. Sentencing will follow completion of a presentence investigation.
They face up to 20 years in prison and a fine up to $250,000 on the food-stamp trafficking charge, 20 years and a fine up to $500,000 on the money-laundering charge, and up to three years and a fine up to $100,000 on the tax-return charge.
More complex tricks! 
Rather than the usual method of simply buying benefits from a customer desperate for cash at the going rate of 50 cents on the dollar, the Zamans used a variety of schemes to turn your money in to their money.
The plea agreements listed multiple ways in which the men violated the food-stamp program. They would allow beneficiaries to use their food-stamp cards to buy items prohibited under the program at twice the price of the items.
They would take beneficiaries, or send them, to other stores to use their cards to purchase items for resale in the Zamans' convenience stores, then pay the recipients 50 cents cash for every dollar they spent.
The government said the Zamans committed money laundering by reselling products in their convenience stores that were purchased elsewhere for them by cooperating food-stamp recipients, according to court records.
Continue reading here.
Just so you know the person selling his or her benefits is also in legal jeopardy and I am beginning to see cases where they are prosecuted too.
That's enough for now, I've given you some previews of what we will be discussing going forward as these kinds of cases are busted by the feds.
***Here is the chart from the CNS story I mentioned above. Note that the vast majority of food stamp fraud occurs in small groceries and convenience stores.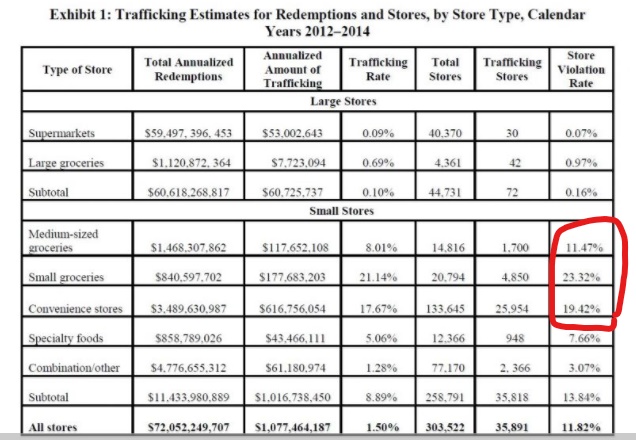 I've been following food stamp fraud stories for years, click here at RRW and you will see some incredible ones that make these Arkansas scammers look like amateurs.
Almost never is a photo available of the perps. Why is that I wonder?