Readers may remember that Rauf was initially arrested in December when he was found to be filming, using a pinhole camera, women in dressing rooms in several Northern Virginia malls.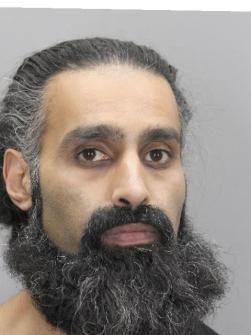 My original post is here. Note his photo then and now!
That post of mine is the most read post so far at my new Frauds and Crooks blog!
And, by the way, I still see no mention of Rauf's nationality or immigration status. Do you?
From an e-mail alert yesterday to citizens of Northern Virginia. (hat tip: Cathy)
Three new victims (of over 100!) have come forward and police have put out this new appeal in an attempt to find more of the women who can be seen on Rauf's images.
Detectives from our Major Crimes Bureau have identified three additional victims recorded in dressing rooms over the holidays. Over 100 videos were found on the phone of 39-year-old Mumtaz Rauf. Rauf, of Alexandria, was arrested for unlawful filming of a minor December 24th after officers were called to the Forever 21 clothing store based on a complaint by an observant teenage girl.
Rauf is now facing three new charges for unlawful videotaping, two class one misdemeanors and one felony. This is after detectives were able to identify two adult female victims and one additional female juvenile victim. In all three cases, the victims contacted our Department through our hotline and texting option after believing they may have been recorded in December.


Rauf now (did his attorneys tell him to clean up?)


Rauf was arrested at two this afternoon and taken to the Fairfax County Adult Detention Center where he is being held on $7,000 bond. We are working in close coordination with the Office of the Commonwealth Attorney, and will continue to update them on our investigation.
We are asking for anyone to contact us who was shopping at Forever 21, Gap, H&M, and Old Navy between December 15th and 24th at Fair Lakes Promenade, Fair Oaks Mall, Springfield Town Center, and Tysons Corner Center.
More than 289 community members have reached out to us since we first setup the hotline January 3rd. Detectives still want to speak to anyone who was potentially videotaped. We did have a brief technical glitch with our hotline. If you tried to reach us and were unsuccessful, we ask you please try again as detectives strive to identify all victims in this case.
Phone: 703-246-4600
Text: 703-718-5806
Email: fcpdtaskforce@fairfaxcounty.gov
For ongoing updates, please read our blog and follow us on Twitter, Facebook and Instagram at @FairfaxCountyPD.
Kind of creepy to think about!
Ladies, you need to be as watchful as that first teen was, and check those dressing rooms carefully before you take off your clothes!
I'm only guessing, but I suspect Rauf's films have been, or would have been, sold.
What can you do?  Get this story out widely to alert other women about creepy perverts like Rauf.  And, if you live in the area and know which high schools/colleges are nearby, one of my readers suggested that the police announcement should be sent to those schools.