"It was a violent act and one of the worst I [have] ever seen."
(Marion County Sheriff Brian Wallace)
The much-beloved 80-year-old grandmother didn't stand a chance against the hardened criminal.
I first saw the news yesterday.
At Metro-UK:
Horror as missing grandma, 80, found 'murdered' behind abandoned shop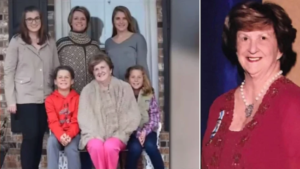 A missing 80-year-old grandmother described as a 'real Christian lady' was found dead behind an abandoned grocery store near a church.

Mary Ann Elvington was reported missing on Sunday near a highway in Nichols, South Carolina. In the course of the search, Mary Ann's 2012 Buick LaCrosse was found empty in Marion County.
Body dumped near a church….
Then on Monday evening, authorities found remains believed to be Mary Ann's behind a store in the Zion community, near Zion Southern Methodist Church.

Mary Ann's son Harold Elvington said she had five grandchildren and attended Mount Olive Baptist Church. 'Mama was just a real Christian lady,' Harold told WMBF. 'She lived at the foot of the cross and where we're at peace is where they found her. They found her at the foot of the cross.'
Continue reading here.
Today when I searched for more, I see that an arrest has been made and charges filed.
You already know where this is going.
Where is the national media on another horrific crime?  Nowhere of course because the colors of the victim and the criminal don't work for their Black Lives Matter narrative.  Who cares about a few vulnerable old white grandmothers!
From South Carolina Now:
Bond denied for Marion man charged in murder of 80-year old former school teacher
MARION, S.C. – Marion County Magistrate Judge Danny O. Barker II. denied bond for a Marion man arrested for the murder of a missing 80-year old woman Thursday.

Dominique Davonah Brand

Dominique Davonah Brand, 29, of Marion, is charged with murder, kidnapping, possession of a firearm by a felon and possession of a firearm during the commission of a violent crime. He appeared in front of the magistrate and members of the victim's family.

"This is one of the most heinous crimes that I have experienced," Barker said. "I find that you are a danger to this community."

Brand was arrested Wednesday on charges of kidnapping and murder of 80-year-old Mary Ann Elvington. Her body was located in the Zion community Monday after a search that started after she was reported missing out of Horry County Sunday. Her white 2012 Buick LaCrosse was found unoccupied at a location on Bobby L. Davis Boulevard in Marion.

The judge ordered Brand to remain in custody based on evidence, warrants, and extensive criminal history until he appears before a circuit court judge.
Deny him bond!
Marion County Sheriff Brian Wallace said it was law enforcement's position that bond be denied on all charges.

"It was a violent act and one of the worst I ever seen," Wallace said.

Wallace said the investigation is still ongoing but was thankful for the help from multiple jurisdictions and neighboring agencies.

"We've been working on this since Sunday and during that time we've had boots on the ground," he said. "We still got a lot more work to do. I would say in my career this is one of the most horrible crimes that I have seen based on the circumstances and based on the evidence."
Ladies!  Situational awareness and wherever you can do it—carry a weapon.
And, fearlessly spread this horrible news far and wide because all lives matter!  Who cares if they call you a racist!
By making people more aware of the increasingly dangerous world the Left is creating with their drumbeat narrative that all blacks are good and all whites are evil you never know, you might save someone's life with your warning.
P.S. I just checked again to see if CAIR had made a statement about the murder of a Muslim Uber driver by two black teen girls and am still seeing nothing.  Apparently CAIR is afraid of BLM and/or DC Mayor Bowser.  I wonder if they still have their BLM banner hanging on their DC headquarters building?