The Arapahoe County Sheriff's Office made former pharmacy owner George Sackey one of its featured fugitives of the week.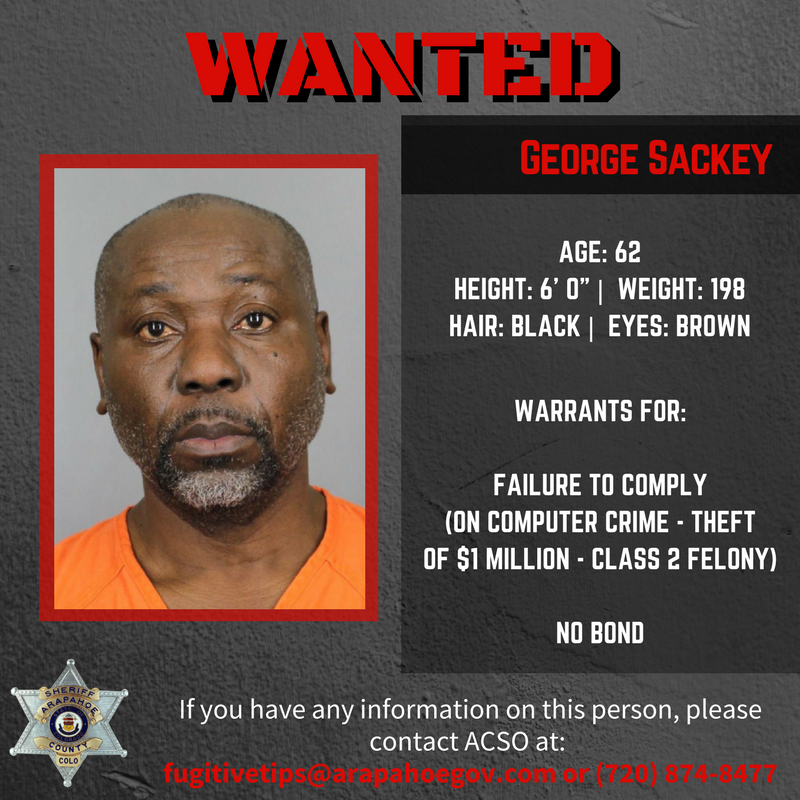 I did do some digging about Sackey and although nothing about his immigration status and nationality came up, there are many many Sackey's originating in Ghana.
Here is a bit about Sackey and his "community" pharmacies at LinkedIn,
Free consulting services to the Colorado African population and the general public as a whole.
My goal is to provide as much help as possible to the underprivileged who otherwise may not be as fortunate and blessed as I'm (sic). It is also a way to give back to the community.
My suspicion is that Sackey is a 'new American' entrepreneur who has now apparently skipped the country after cutting off his ankle monitor.

From the Denver Post,
Fugitive Colorado pharmacist illegally billed Medicaid and Medicare $7.8 million in fraud scheme, prosecutors say
A fugitive Colorado pharmacist who twice skipped bail is accused of fraudulently billing Medicaid and Medicare out of $7.8 million by giving customers generic pain creams his employees mixed themselves and billing the government for brand-name medication never delivered.
George Sackey, 63, was charged in Arapahoe County District Court with one count of theft of more than $1 million and one count of computer theft of more than $1 million.

Those charges were filed Feb. 14, 2017, but came to light this week after the U.S. Attorney's Office in Denver filed a forfeiture lawsuit against Sackey's Highlands Ranch home and several bank accounts totaling more than $1.2 million in value, according to Douglas County assessor's records and court documents.
Authorities first caught Sackey on Feb. 15, 2017, the day after the charges were filed, on the Denver International Airport Jet Bridge as he was preparing to board a plane headed for London. He soon paid a bond, was released from jail, and then cut off his ankle monitor on May 12, 2017. He has not been seen since, federal court records say.
Sackey carried out his alleged prescription pain medication scams at his two pharmacies, Havana Pharmacy and Medical Supply Inc., 1555 S. Havana St. in Aurora, and Alameda Pharmacy and Medical Supply, 2370 W. Alameda Ave. in Denver, between 2012 to 2017, federal documents indicate.
A former Havana Pharmacy employee reported Sackey to the Colorado Medicaid Fraud Control Unit in December 2016, alleging that he gave patients generic medication while billing Medicaid and Medicare for more expensive brands including Abilify and Nexium.
More here.
Here is the Colorado AG's press statement on the case about the time he was first charged.
Until I got into this research about fraud, especially Medicaid and Medicare fraud, I had no idea that clever 'new American' pharmacists (a job Americans won't do?) were ripping us off. (See my Pharmacies tag).