Well, what do you know! Antifa isn't happy with Joe Biden either as they continue causing unrest and promoting violence on the West Coast.
Here is a picture worth a thousand words from yesterday, just as good 'ol Joe was being coronated with his very own Praetorian Guard that far outnumbered his supporters.
Now that Joe is in the White House, will he call out the National Guard to quell the continuing unrest in BLUE states?  We will be watching!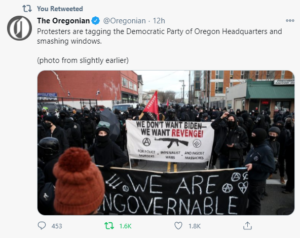 "We are ungovernable" they say.***
See that on their banner "We don't want Biden" that they also don't want "imperialist wars."  Well, it was the man they drummed out of the White House that had stopped "imperialist wars," but never got any credit for it!
Here is news at Gateway Pundit that the Antifa unrest wasn't limited to Portland's Democratic headquarters yesterday, but the domestic terrorists were out attacking an Amazon store in Seattle as well.
Jeff Bezos sure didn't buy himself any protection as he silenced conservative voices on Parler!
Seattle: Antifa Terrorists Riot, Target Amazon Store (Video)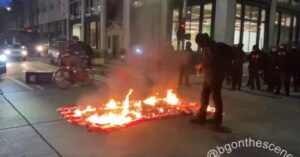 Not satisfied with merely forcing Trump out of office with a coup, the far left radicals of antifa took to the streets of Seattle to do, what else, riot and light fires.

[….]

You may recall that the terrorists previouslydemonstrated outside Bezos's home with an actual guillotine last year.

After blocking Parler from his Amazon servers and promoting BLM stuff on the online retailer, it appears his efforts to kowtow to the terrorists have all been in vain.
So for you Dems out there who voted for Joe and thought you were buying peace and love going forward, looks like Antifa plans to burst your bubble!
***Best coverage of Antifa is from Andy Ngo:
Portland: A large mob of #antifa have shut down the street in SE Portland. Police responding to them earlier were assaulted. They then retreated. #PortlandRiots pic.twitter.com/pLW82mw444

— Andy Ngô (@MrAndyNgo) January 20, 2021