Hawley's wife was home alone with a new baby.
This is what the goons on the Left are so good at—terrorizing—and I expect this is why there are so many weak Republicans, and for that matter weak Judges and Justices (e.g. John Roberts).
The story is at Gateway Pundit, a website you should follow as the Hoft brothers are on top of all of the latest news involving the Great Election Steal of 2020.
When I saw Jim Hoft's post. I immediately thought about Leo Hohmann's post yesterday !
VIOLENT LEFTIST MOB Swarms and Attacks Senator Hawley's DC Home — Pounding on Door, Screaming Threats — Terrorizing His Wife and Newborn Baby
The Senator was back in Missouri at the time.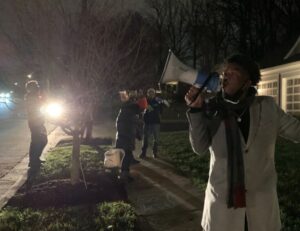 But Senator Hawley's wife Erin and their newborn baby were at home at the time!

This is the modern-day Democrat Party.
Their fake news media will, no doubt, ignore this latest attack on a mother and her baby!
The Senator, who was in Missouri when the attack occurred, tweeted this:
Tonight while I was in Missouri, Antifa scumbags came to our place in DC and threatened my wife and newborn daughter, who can't travel. They screamed threats, vandalized, and tried to pound open our door. Let me be clear: My family & I will not be intimidated by leftwing violence

— Josh Hawley (@HawleyMO) January 5, 2021
The Gateway Pundit blog goes on to report that Shutdown DC put out a notice claiming credit for terrorizing women and children.
I told you about Shutdown in October (many work for the federal government).
A "vigil"?

Meanwhile a different sort of thug—Fox News anchors—bully Senator Hawley who stands up to Bret Baier's snark. 
I hope all of you have now dumped Fox News!
Look around and see that Leftwing media sites are thrilled with not only Baier, but are overjoyed to see Steve Doocy and Brian Kilmeade say Trump has no proof of election fraud. At Mediaite.
This Cuck Brett Baer tries to get smart with @HawleyMO. So Josh breaks it down so Brett should be able to understand it. pic.twitter.com/XaJXKpjPCg

— The Dirty Truth (Josh) (@AKA_RealDirty) January 5, 2021
Hawley is the first of twelve US Senators to question the 2020 presidential election results.  Georgia's Kelly Loeffler says she will join the twelve, but I don't know how that works since today's Georgia special election results will surely not be available by tomorrow.