Kenyan Billy Chemirmir was indicted in yet another murder of a vulnerable senior woman the day before last week's March on the Capitol.  Other than the Dallas Morning News, crickets from the rest of the media.
And, you know why that is!  Chemirmir represents the exact opposite profile of what the media wants us to believe about the good immigrants coming here from African villages for a better life in America.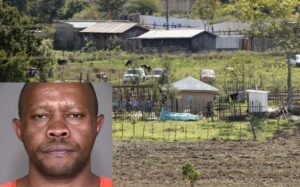 In my opinion, besides the fact that Chemirmir should not even have been in the country, the case represents a colossal failure on the part of the senior living facilities to keep their residents safe, and an even more frightening and extremely sad failure on the part of authorities who didn't put the pieces together sooner.
Families had expressed concerns about missing jewelry and the conditions in their loved ones homes that should have been red flags to investigators.
From the Dallas Morning News:
Chemirmir indicted with 18th capital murder charge
A Dallas County grand jury has added an 18th count of capital murder against Billy Chemirmir, who is accused of smothering and robbing elderly people for years in Dallas and Collin counties.

The latest charge is in the death of Glenna Day, who was killed Oct. 15, 2016, at The Tradition-Prestonwood, a luxury senior living community in Far North Dallas.

Day, an artist, had worried about unexplained deaths on her hall.

Billy Chemirmir is accused in indictments and lawsuits with the deaths of 24 elderly people in North Texas.

Billy Chemirmir is accused in indictments and lawsuits with the deaths of 24 elderly people in North Texas. (Dallas County Jail / Dallas County Jail)

Chemirmir has been indicted in connection with eight other deaths at that complex, and he has been linked in lawsuits to one other. Including several other deaths that have not been included in his 18 indictments, he has been accused of killing 24 people from April 2016 through March 2018.

If convicted, Chemirmir could face the death penalty. He has said he is innocent and is in jail, with bail set at $17.6 million.

[….]

Before she died, a string of strange deaths down the hall had worried Day, her family says.

She told her daughter over and over in late 2016 about a number of her neighbors on the fourth floor who had died unexpectedly, but she didn't have any more details about the strange deaths.

"Maybe I should move," her mother told a friend.

Just a few weeks later, Day was found dead.
Unfortunately, the Dallas Morning News story is behind a paywall (or at least I think it is, I am a subscriber).  Reporter Charles Scudder deserves a Pulitzer when this is all done and I sure hope he is writing a book!
Chemirmir's trial is scheduled for April, but could be delayed.
In what is surely a rare thing to see, the victims' daughters have joined forces to attempt to strengthen Texas laws to make it more difficult for a monster like Chemirmir to have such easy access to anyone's beloved mother in the future.
See…..
See my tag (Billy Chemirmir) for all of my posts on this nightmare story going back to March of 2018 when he was arrested at the end of a two year killing spree.