This is an update of a post I wrote in the summer of 2019.
Nursing Assistant Arrested for Raping Disabled Woman in Care Facility
At the time, I could not find a photo of the alleged rapist, but thanks to the woman's brother who set up a hidden camera in her room we now have this photo: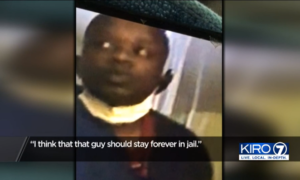 First watch the news report at Seattle's KIRO7 shortly after the arrest of Nshimiyiana Hamzat who I suspect is Nigerian.
You will see (hear from their accent) that the white victim and her brother are immigrants themselves perhaps from Eastern Europe.
'They must change': Seattle woman, brother speak after hidden camera nursing home rape arrest
SEATTLE — KIRO 7 first told you earlier this month that prosecutors had charged 29-year-old nursing assistant, Nshimiyiana Hamzat, with second-degree rape after they said he was captured on hidden camera repeatedly raping a disabled patient in his care at Foss Home and Village in North Seattle.

Hamzat is currently booked in the King County Jail.

Charging papers say the hidden camera was disguised as a phone charger and placed in the room at Foss Home and Village nursing home, unbeknownst to the victim by her brother, who she had told about the alleged sexual abuse after initially suffering in silence.

That woman and her brother, whose identities we're concealing given the allegations, are now sharing their stories for the first time with KIRO 7 in hopes of creating change at the nursing home that KIRO 7 recently learned is tied to another Seattle police investigation involving the reported sexual assault of a 93-year-old woman.

They also shared screenshots of the video they said was turned over to Seattle police that led to the rape charges.

"I asked him, what are you doing to me? He said back to me, 'I'm trying to help you, I'm trying to clean you'," said the victim in an interview with KIRO 7. "It was really terrible."
Watch the news clip to see the camera (you might need one someday!) used by the victim's brother who said it made him sick to see what it recorded.
The video shows she was raped twice a day on two different days.
Here is the latest news from last week. It is an Associated Press story they condensed from the Seattle Times.  The AP story might actually be distributed widely throughout the country.
Seattle Nursing Home to Pay $8M in Sexual Assault Lawsuit
SEATTLE (AP) — A Seattle nursing home's insurer has agreed to pay $8 million to settle a lawsuit brought on behalf of a disabled woman who was sexually assaulted while in the facility's care.

Foss Home and Village agreed to settle the 2019 lawsuit claiming the facility was negligent in its hiring and its failure to have a system in place that ensured the plaintiff's care was "monitored and properly supervised."

The lawsuit was filed after the woman, who is in her 50s with multiple sclerosis, told relatives about the abuse. One relative placed a hidden camera in her room, the Seattle Times reported.

The video captured the woman being repeatedly raped by a male employee, according to King County prosecutors who charged Nshimiyiana Hamzat with rape and indecent liberties two years ago.

Hamzat remains in jail awaiting trial.
See also the Seattle Times story where the victim's attorney is quoted:
Seattle nursing home settles lawsuit for $8 million after worker allegedly raped woman repeatedly
"They had one male staffer cleaning the genitalia of disabled females," said plaintiff's attorney Darrell L. Cochran who worked on the case with attorney Kevin Hastings. "That's a terribly dangerous practice."  [There should be a law in fact, that vulnerable women are only cared for by other women!-ed]
And, a warning to all:
Cochran said that while the $8 million settlement got Foss' attention, "everyone should be on the alert for their elderly family and friends because sometimes assistant living homes have good policies but really bad practices."
This is not the only case of rape allegations in care facilities we have reported.
See a similar case in Minnesota just last month where a son set up a surveillance camera because he feared Mom was being abused.
Minnesota (again!): Nursing Home Aide Arrested on Charges He Raped Dementia Patient
One of the supposed benefits of mass migration that the Left is pushing is their bright idea that they will train more immigrants to care for America's elderly.  I shudder at the thought.
See my tag 'Elder Abuse' for more dreadful cases.
Editor's note:  Please consider reading my posts at 'Frauds and Crooks' on a computer screen once in awhile instead of on your phone, or simply in an e-mail!
Why?  Because I spend a lot of time laying out posts with photos etc. and they look so jumbled, with photo captions separated, when condensed in an e-mail or on a phone.
Additionally it helps my numbers (hits!) look better!