This is a story from last month that I missed.  Thanks to a reader for sending it.
It is an incredibly sad story about a popular suburban dog walker who was just returning from a local park with her clients, six dogs, when a police chase ensued.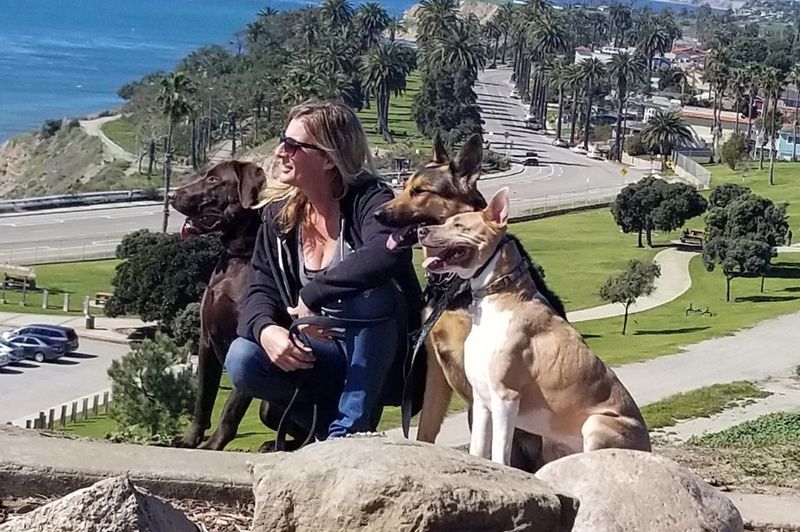 Her killer, Javier Olivarez, widely described as a "career criminal and gang member," was attempting to elude police and smashed into a car stopped at an intersection killing Jessica Bingamen (41) and instantly killing four of the six dogs she had with her.
One report says it took 20 minutes to remove her body.
She leaves behind a ten-year-old daughter.
I just read through at least six reports and not one mentions Olivarez's immigration status!
However….
My observant reader points to an article from last year, describing a man with the same name and age (in Michigan) who had been previously deported to Mexico, but was back and once again in trouble with the law. Same man?  See it here.
Now here is more about the, by all accounts, beloved Jessica and what happened to her that fateful day in May.
From ABC News,
California dog walker, 5 dogs killed when man slams into vehicle during police chase
A high-speed police chase ended tragically this week when a stolen van barreled into a dog walker at a California intersection, killing her and five of the six dogs she was caring for.
Jessica Bingaman, 41, of Long Beach, California, was returning from a local park on Tuesday morning when 43-year-old Javier Olivarez allegedly slammed into her small Ford SUV as he fled from police in a stolen van, according to the Long Beach Police Department.


Olivarez looking sad for himself as he faces multiple charges in Jessica's death.  Six counts were for animal cruelty. He pleaded not guilty!  https://www.presstelegram.com/2019/05/17/los-angeles-man-pleads-not-guilty-to-charges-stemming-from-pursuit-crash-that-killed-long-beach-woman/


Bingaman, a mother of one, had just stopped at a stop sign when Olivarez drove through the sign and came speeding towards her, the department said.
"Bingaman was transported to a local hospital by the Long Beach Fire Department and was later pronounced deceased due to major traumatic injuries sustained during the collision," the department said in a statement. "Six dogs were being transported in the 2013 Ford as part of a dog daycare service. Four dogs passed away at the scene and two were transported to a local pet hospital."
A fifth dog passed away at the pet hospital due to injuries sustained in the crash and the remaining dog has been released to its owners from the hospital, according to the department.
Denise Thomson, who said she lived next door to Bingaman, said she was a popular dog walker who was dedicated to her 10-year-old daughter and her canine clients.
"I'll miss her," Thomson told ABC California station KABC. "She loved her daughter with all her heart, and she loved the dogs that she took care of."
"She loved the outdoors, she loved exercise, she loved yoga. Just happy-go-lucky," added Denise Lee, a friend of Bingaman.
Police officers spotted Olivarez, who officials said is a career criminal and known gang member, in a stolen 2016 Nissan van a few blocks away from the crash site. The officers tried to conduct a traffic stop, but Olivarez took off, sparking a high-speed chase through a largely residential neighborhood, police said.
The pursuit ended with Olivarez slamming into Bingaman's Ford Escape — crushing it — and careening into three parked cars, police said. He was transported to a local hospital with minor injuries.
More here.
A Go Fund Me page has been set up to help Jessica's daughter, here.
The coming crime wave (here already!) from the mass migration into America.
Last month Daniel Horowitz penned a post at Conservative Review in which he warns of a coming crime wave like nothing we have seen as hundreds of thousands of illegal migrants flood into the US.
Read it here.
But, here is my question—if the media fails to report the immigration status of a "known gang member" like this creep Olivarez, how will the average casual follower of the news know from where the crime is coming?  (And, thus how to stop it?)
But, I guess that is exactly what the media power structure doesn't want us to know!
That is why it is vitally important that you get stories like this one out to your social media networks to help counter the fluffy-puffy sob stories the media spreads about the poor migrant souls being supposedly mistreated by our President.