"These are not people who are wasting time with the system…."
(Anna Mongo, Jericho Road Community Health Center)

So, what does Ms. Mongo mean by that?
She means, although she dare not say it, that there is a LEGAL process by which legitimate refugees from the DR Congo are getting into the US right now (by the thousands), yet this bunch was financed by someone to rush our southern border.
WHO?
Why is no investigative reporter finding out who is paying for the invasion?
Tell me that these poor migrants from Central Africa flew to Brazil and walked up from there through many countries, did not ask for asylum in any of them, and then stormed across our border.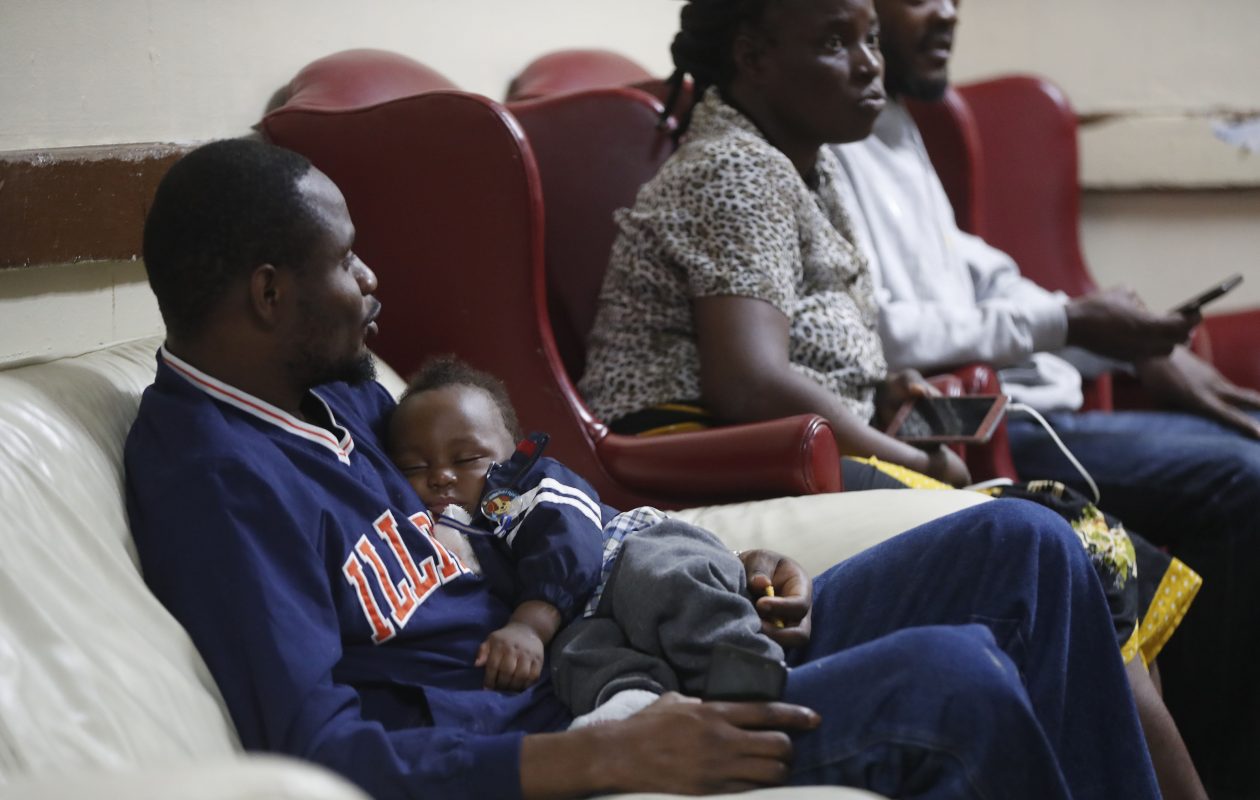 "It is beyond maddening!"

Here is one version of the latest news about the 300 plus migrants from the DR Congo who are fanning out across America to join the 50,000 we have admitted legally from that country in under five years.
They couldn't get in line and wait their turn?
Before I give you the story, here (below) is the headline.  THEY ARE NOT REFUGEES! 
In fact, according to news accounts they haven't even filed for asylum yet.  They will NOT be REFUGEES until an immigration court grants them that status. 
This is a prime example of how the Open Borders Left and the uninformed media (or is it lying media) try to sway public opinion.
These are still illegal aliens who somehow acquired enough money for plane tickets to Brazil (at about $1,500 per person) in addition to the funding to transport and feed them all the way to our border with Mexico.
From WKBW (hat tip: Joanne),

Jericho Road refugee shelter in urgent need of money, food after seeing a 250% influx in refugees
BUFFALO, N.Y. (WKBW) — Jericho Road Community Health Center has been taking in refugees for years, but they're dealing with something unprecedented, now.
They are taking in a huge influx of people seeking to gain refugee status.
"This is a relatively new phenomenon from anything I can tell," said chief program officer Anna Mongo. "Rather than going to camps and coming (into the United States), people are figuring out ways to come here directly and essentially ask for asylum after they're here."
Indeed they are gaming the system.
As of June 13th we had admitted 50,314 directly from UN camps in Africa since October 1, 2014 (not yet five years).  So, I just checked the numbers and see that between the 13th, last Thursday, up to today we have admitted another 409 LEGAL DR Congolese refugees.
You have been more than generous with your tax dollars—-50,000 costs us millions of dollars—-and we are now asked to cough-up more money for this bunch who couldn't wait their turn.
Again, who paid for their journey?
WKBW continued….
The shelter received a 250% influx in asylum-seekers over the past 10 days.
These are people with legitimate asylum claims fleeing from the violent territory conflict that has been waging in the Democratic Republic of Congo for more than two decades.

"These are not people who are wasting time with the system, it's well known that refugees are coming from the Congo."

And Jericho Road did know they'd be taking in a few people last week — 8 families were expected — 100 people showed up at its doors. [Who picked this facility?—A refugee agency? ICE? And, why Buffalo?***—ed]


Anna Mongo


"So, if families get picked up, they're basically going through processing and being released.
They're being released all across the country and actually this group was originally intended to end up all across the country, but they've ended up in Buffalo."
Many in the group that was just brought in flew to Brazil after fleeing the Congo, they then traveled by foot through south and Central America until they reached the Mexican border where they were mass processed and released into the U.S.
They did not travel by foot for nearly 5,000 miles, look at the photo!  The woman would have left that gut behind in about the first 1,000 miles! 
What a con job being pulled on us!
After ending up in Buffalo, Jericho Road says they now have over 140 people living at it's Wyoming Avenue facility.
[…..]
They could be sleeping there for the next two years as lawyers work alongside ICE and the courts to begin their refugee status approval process.
Right now — the center is in need of money for operating costs, specifically food.
More here.
*** I answered my own question after visiting the US State Department's Refugee Processing Center.
Although Congolese are being placed in almost all 50 states, apparently Buffalo is especially 'welcoming' the DR Congolese and thus establishing a Congolese ethnic enclave (oops! "community") there.
See here….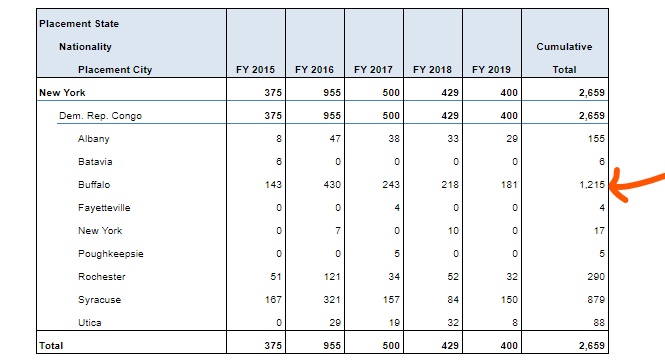 Where are you Donald? 
Figure out who is paying for the border invasion and blow this thing sky high (and you will win the White House in 2020 to boot!).