The list is long, but the one that caught my interest was HIAS (formerly the Hebrew Immigrant Aid Society) and one of nine federal refugee contractors I have been writing about for going on 14 years.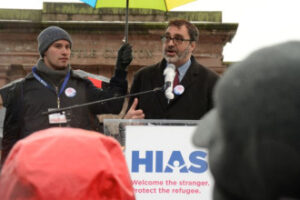 Of those nine (below), HIAS hustlers have been the most political, by far, of the contractors and its head honcho, Mark Hetfield, was out front for four years working to defeat Donald Trump with rallies in the streets and cases in the courts all the while sucking up millions of your tax dollars.
Here is the news at Information Liberation.
Thanks to a reader for spotting it!
Bezos' Ex-Wife MacKenzie Scott Donates $2.7B to Fund HIAS, Open Borders Lobby, Pro-Censorship Groups, Racial Justice NGOs
MacKenzie Scott, who received $38 billion from her divorce with Jeff Bezos, is giving leftist NGOs, the open borders lobby and "racial justice" agitators their greatest windfall in history.

Scott on Tuesday released a list of 286 groups she's giving another $2.7 billion in divorce money to on her blog.

The first which stands out is HIAS, formerly known as the Hebrew Immigrant Aid Society, which works to resettle refugees through America.

They didn't say how much her donation was but the head of the group [Hetfield] said it "would enable the group to become an emergency responder to refugee crises around the world in addition to a resettlement agency," eJewishPhilanthropy reported.

HIAS's latest financial report for 2019 says they had $80 million in total assets and $55 million in net assets.

I'm assuming they probably got a lot more than the $7 million she gave to Repair The World as they're now planning to go global.

Another notable group on the list is Muslim Advocates, which is basically just a Muslim copy of the Anti-Defamation League that lobbies for internet censorship, mass immigration and hate speech laws.

The top of their website says how they're suing Facebook for not censoring enough.
Because you may not be a reader at RRW, here is one of the things I have done over the years and that is to check out IRS Form 990s for the resettlement contractors/political agitators.
Visiting two pages will give you a feel for an organization.  First I want to know how much federal money they receive for their 'religious' charitable work.
Here (below) is page 9 of HIAS most recently available Form 990 (2019).
When I first started examining tax documents for non-profits, this information was on page one, but at some point it was moved to page 9 presumably to deter nosey taxpayers from finding it.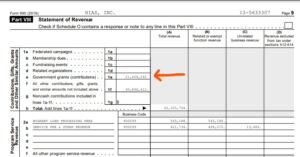 And here, check out the six-figure salaries the top execs are making.
I call it doing well by doing good.  Think about how some staffer for HIAS is making more than a US Senator, Congressman or Supreme Court Justice!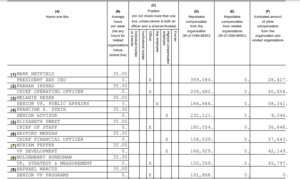 By the way, if you think it is not kosher of me to post salaries I would agree if the business entity was truly a private one, but these government contractors are spending our money so I figure it is fair game.
To learn more about HIAS, check out my extensive archive at Refugee Resettlement Watch.  To be fair, you should know that some of the refugee contractors get many millions more of payola from the feds than does HIAS.
Below are the nine federal refugee contractors that monopolize all resettlement of third world refugees to your towns and cities. They will soon be awash in your money as Harris/Biden say they will admit 125,000 refugees from Africa, Asia and the Middle East to the US beginning on October first.
The contractors are paid on a per refugee head basis and to a large degree determine which towns and cities will be new resettlement targets.