What a coincidence!  The Egyptian man who only a week ago was charged with attempted kidnapping of a child in a Huntington, WV area mall, was already scheduled to leave the US for home prior to the incident.
[See my previous posts here, here and here.]
What happened to the job we are told he had here in America?  And, what happened to the family members we were told greeted him with hugs when he was released from jail after the young woman who claimed he touched her child supposedly backtracked on the story?
Didn't the police at one point say there was a "cultural misunderstanding?"  Now they are saying that NOTHING happened!
And, if the young woman goes to court, no attorney will be able to question the Egyptian man?
It looks like the only hugging at the Charleston airport was between the police and Mohamed Zayan.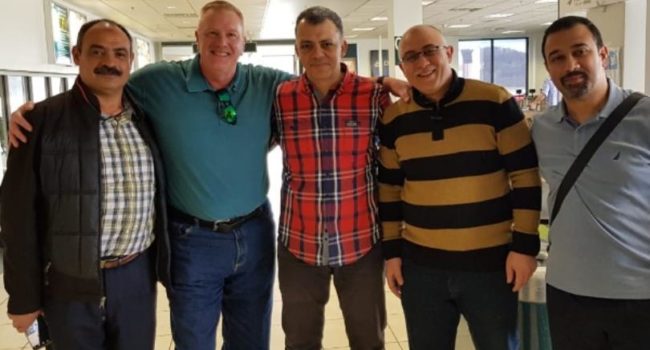 My GUESS is that someone from Washington called down to the local authorities and said 'make this go away.'
From West Virginia Metro News,
Man returns home after charges dropped in Huntington Mall incident
BARBOURSVILLE, W.Va. — The Egyptian man arrested at Huntington Mall last week on an attempted abduction charge who had all charges dropped less than 72 hours later is back home in Alexandria, Egypt.
Barboursville Mayor Chris Tatum said Monday on MetroNews "Talkline" Mohamed Zayan, an engineer who was working in the area, was already scheduled to return home before the mall incident.
It was some kind of week for Zayan. He was charged last Monday after Santana Renee Adams called 911 and reported Zayan had grabbed the hair of her 5-year-old daughter and attempted to drag her away and he only stopped when she pulled out a gun to threaten him. Adams recanted the story a day later and all charges were dropped against Zayan by Thursday. Adams was arrested Friday on a charge of of falsely reporting an emergency.


Barboursville Democrat Mayor Chris Tatum


"No touch, no gun, no nothing," Tatum said about Adams' story.
At a police press conference referenced in my earlier post the police were sure that some kind of touching did occur.
Indeed where did the idea of a "cultural misunderstanding" come from? Those are surely not the words of the young mother.
Now the mayor says nothing happened?
Tatum said Zayan is a nice man. He said there were handshakes and hugs when he was told all charges were being dropped.
Barboursville police worked with Yeager Airport officials Saturday to make sure Zayan had no problems boarding his flight. A few officers made the trip to Charleston with him, Tatum said.
Why should he have had any problem boarding his flight?  Was his passport and paperwork in order? Was he in the US legally?  Then why the need for officers (out of uniform) going with him "to make sure he had no problems boarding his flight?"
Sorry, but there is something we are not being told about this whole story. Maybe one day someone will feel badly enough to tell us exactly what did happen.