Surely another Muslim honor killing.
We have been so preoccupied with Election Steal news so this story reminded me that there are still 'new American' criminals among us (one of the primary reason for launching 'Frauds and Crooks' in the first place) and that there are bloggers, like Creeping Sharia, still hard at work getting the news out.
The sickening story is from the New York Daily News from before Christmas.  Here at Creeping Sharia.
Readers should know that Creeping Sharia was shut down by WordPress.com just as I was at Refugee Resettlement Watch because the speech police, using dirty tricks, are out to silence voices they don't like.
Muslim fugitive arrested, held without bail in Staten Island strangulation of 'Westernized, Americanized' daughter
She was becoming more Westernized, more Americanized. She didn't want to wear the hijab.
In other words, this was an Islamic honor killing.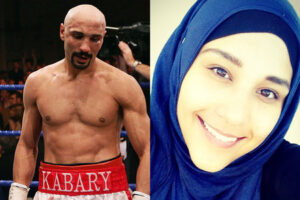 A former Olympic boxer charged with the strangulation of his daughter — an activist for the rights of Muslim women — was arraigned on murder charges Tuesday and ordered held without bail, the Staten Island district attorney said.

Kabary Salem, 52, was extradited from Kuwait on Friday, ending a year-long manhunt that started shortly after his daughter, Ola Salem, 25, was found strangled in Bloomingdale Park, a 138-acre park on the South Shore of Staten Island, the morning of Oct. 24, 2019.

Salem fled the country, possibly spending time in Egypt, authorities said — and even tried to throw investigators off his trail by telling The New York Times his daughter had complained to him that she was being tailed by another car on the highway.

"I want to know what happened to her, what is the reason for that, but no one tells me," he told the news outlet. "I am just waiting.

"She was a really good, beautiful girl."
Keep reading to see what he did (for Allah) to his "beautiful girl."
And, Creeping has a follow-up story here. Ola Salem was once an activist FOR Muslims wearing the hijab.
I see that over the years, I've posted many times at RRW about honor killings.