Okay, this is a pretty straightforward story about an Egyptian who made his way to Texas allegedly to take advantage of a minor and he got caught.
Ho hum…
…but is he also the bagel guy (with the same name) from the same town in Massachusetts—Winchester?  Does anyone know?
From and ICE press release:
Unlawfully present Egyptian national charged with child exploitation-related offenses against South Texas minor
CORPUS CHRISTI, Texas – An Egyptian national who is illegally present in the U.S. was indicted Monday on several charges related to the alleged exploitation of a South Texas minor.

U.S. Immigration and Custom's Enforcement's Homeland Security Investigations in Corpus Christi, Texas, conducted the investigation along with the George West (Texas) Police Department, Live Oak County (Texas) Sheriff's Office and Texas Department of Public Safety.

Ehab Sadeek, 47, who resides in Winchester, Massachusetts, was indicted June 29 by a Corpus Christi grand jury on charges of online solicitation of a minor, travel with intent to engage in illicit sexual conduct and transfer of obscene materials to a minor.He was initially charged by criminal complaint and made an initial appearance before U.S. Magistrate Judge Julie K. Hampton. At that time, the court found probable cause that he committed the alleged offenses and ordered him into custody. He will appear again in federal court in the near future on the indictment.

The charges allege Sadeek used interstate and foreign commerce to knowingly persuade, induce, entice and coerce a minor victim in Live Oak County (Texas) to engage in sexual activity. From May 7 to May 26, Sadeek allegedly transferred obscene material to the same victim, knowing she was less than 16 years of age. According to the allegations, Sadeek traveled from Massachusetts to Texas with the intent to commit sexual offenses.
Now here is the news from ten years ago about a bagel maker who threatened to boil his daughter in the bagel kettle.  He has the same name and would be 47 years old today.  But who knows maybe (coincidentally) there are a whole passel of Ehab Sadeeks in Winchester, Mass!
From 2010 in the Boston Herald:
Staties probe possible threats against juror, lawyer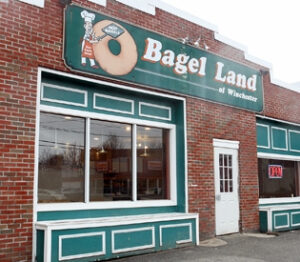 State police are investigating possible threats against a juror and a defense attorney in the case of a Muslim bagel-maker acquitted of charges he plotted to boil his teenage daughter alive in an industrial kettle.

The probe was launched yesterday to determine whether the threats warrant criminal charges.

[….]

Sadeek, 37, an Egyptian national and owner of Bagel Land in Winchester, was found not guilty March 22 of more than a dozen charges stemming from his 15-year-old daughter's claim that he beat her, held her down with a knife and threatened to toss her in his company's bagel boiler for dating an 18-year-old boy.

Prosecutors argued the girl's mother fled back to Egypt in 2008 to escape her husband, and that Sadeek violated a restraining order meant to protect his daughter.

Sadeek remains in custody, pending a hearing on his immigration status.
If it is the same 'new American' then I guess he didn't remain in custody for too long!
If you live in Winchester, Mass. and know if the Texas alleged Egyptian perv is the same guy as the Bagel Land Egyptian, let me know!