And, you have been sending your money their way thinking that they are fighting for you in the swamp, only to find out that they are basically wimps who have gotten just too damn comfortable in the swamp.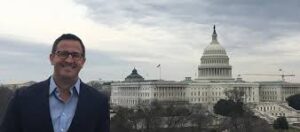 There is an excellent piece by Ned Ryun at American Greatness in which he suggests it is time to build a new, leaner, meaner political Right.  (Hat tip: Richard Falknor on twitter https://twitter.com/highblueridge)
For conservatives it seems every day brings with it another betrayal from the professional Right. The hollow people leading the Republican Party and Conservatism, Inc., have been exposed. Some of us have known for years they wouldn't be up to the task when a true challenge came, but it is still staggering to watch the meltdown happen in real-time.

So maybe it's finally time for those on the Right to stop doing the same things they've been doing for nearly half a century, and instead form a new movement—a New Right that is actually equipped to defeat the Left.

As the think tanks are shown to be ineffective in the face of the aggressive Left, more people are beginning to realize that perhaps the money given to places like Heritage, American Enterprise Institute, and Cato was squandered. And it was a lot of money. The three organizations combined raised roughly $2.45 billion between 2001-2018, and that does not include the hundreds of millions in investments and real estate.

Rational people should acknowledge this reality and stop pretending it's not happening. People invested billions of dollars in these entities, only to realize they never intended to be anything but sinecures.

Even worse, so-called conservative think tanks have little if anything in common with America First and have been corrupted by corporatism and imagined access to power.

It's time to abandon the concept of institution building, as though we will ever have the ability to match the Left institution for institution. It's time for a scrappy New Right to be built with an insurgency approach: we must accept that we are not in power, that we do not control the institutions, and that it's time to go on the offensive. Our thinking, our strategy, and our investments must reflect that belief.

[….]

Let's Build Fleet of PT Boats

For too long we have accepted the rules of the game laid out by the statists and the Left. It's past time to stop playing by Goliath's rules; time to start playing by David's.
Then consider this:
Some people might think this is mean. To which I say: grow up. There is a war for the republic's existence and some people are like, "Ew, this approach would make me feel so icky." You know what will make you feel super icky? When your indoctrinated kids inform on you and get you sent to a re-education camp. So suck it up, buttercup.
Much more here.
I only have one question:
Where do I enlist? 
Endnote:  I was done with Heritage when they began sucking up to the Refugee Industry back in 2017, here is one post I wrote at the time.