After all, you are pals and she has the cred!
And, it would be so much fun to write about her here at 'Frauds and Crooks' because I followed her time in the Obama White House fairly closely at RRW and have a handy archive of juicy stories to draw upon.
Kamala 'meh!' same for Elizabeth Warren. Some of the other names being thrown around—'meh' too!
But, Rice, a worthy subject deserving of whatever can be thrown at her!  And, think about it, it will be the closest thing we could have to going after Obama himself!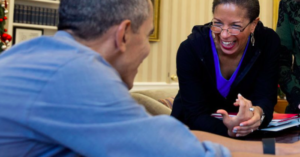 From The Hill:
Susan Rice sees stock rise in Biden VP race
Sens. Kamala Harris (D-Calif.) and Elizabeth Warren (D-Mass.) are getting most of the buzz, but former U.S. Ambassador to the United Nations Susan Rice is also getting a lot of attention in Joe Biden's campaign as he considers who to pick as his running mate, sources say.

Rice, who also served as former President Obama's national security adviser, has seen her stock rise amid a series of crises, including the COVID-19 pandemic.

"I know she's very much in the mix," a source close to the Biden campaign said.

One factor to watch is Biden's relationship with Rice. The two worked closely in the Obama administration, and personal chemistry is an underrated factor in vice presidential decisions.

"I know they have a good relationship — perhaps the best relationship of anyone on the list," the source close to the Biden campaign said. "They've known each other for years, they've worked alongside each other and she's been tested in a way that a lot of folks on the list just haven't been."

Biden, who has committed to selecting a woman as his running mate, has said repeatedly that he is looking for someone who is "ready to be president on day one."
Scary stuff!
"She's a rock star who has the confidence, stature and gravitas to be vice president."

[….]

Rice wouldn't confirm or deny that she is "in talks with the Biden campaign" during an interview with MSNBC's Rachel Maddow this week.
Rice on the ticket would surely bring out gal pal Samantha Power and that would be double fun for me.
Why didn't anyone ever write a book about the women behind Obama—Susan Rice, Samantha Power and Valerie Jarrett—sure could come in handy now!