It really is time to get ready.  If you are like me, you might be thinking that you don't want to imagine the worst, that things are tough enough between the Chinese Virus 'crisis,' the election, the riots, and the economy, but it could be worse and here Leo Hohmann tells us how bad it could get.
Conclusion: Best to swallow the red pill and be prepared.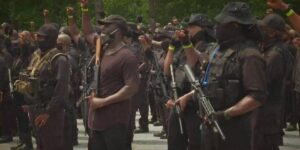 From Leo Hohmann.com:
The Bolshevik army shows its face in Atlanta suburb of Stone Mountain
We're witnessing the convulsions of a nation breaking apart at the seams.

Each new convulsion will be deeper, more traumatic and more violent than the previous.

The latest escalation occurred Saturday, July 4th, in Stone Mountain, Georgia.

According to the nonprofit group Georgia Law Enforcement, which posted a description of the event on Facebook, an armed group of "protesters" carrying AR-15 semi-automatic rifles, marched through the streets of Stone Mountain yelling threats at white people.

[….]

Let's cut to the chase. This is the Bolshevik Army showing its face in America. They are signaling that they are for real and they are ready for action. The time for talking is over.

Black Lives Matter is just a smokescreen meant to lure in the do-gooders. You know the type, those who feel all warm and fuzzy when they virtue signal about their lily white hearts, which bleed for the oppressed while accusing America of "systemic racism." These social-justice warriors are hopelessly lost and lacking in discernment as to where things are heading, and it may be too late to save them from what's coming.

[….]

Short of some miracle that unites the country, neither side is going to accept the outcome of that election. Certainly not the left-leaning side.

That means more violence in November, and it will be worse than what we saw in June, far worse.

[….]

Most conservatives make the fatal mistake of underestimating their enemy. We tend to look at the mostly white rich kids knocking over statues and think this is the face of our adversaries. Weak. Pathetic.

But behind this façade is a well-trained coalition of highly trained white and black militants associated with groups like the Weather Underground and the Muslim Brotherhood. Underestimate them at your own risk.

I advise every American who is concerned about these leftwing militias to contact their local sheriff and ask him or her where they stand with regard to mobs of people tearing down monuments, shouting violent or threatening slogans, and now, increasingly, starting to arm themselves.
I've only snipped a very tiny bit of the post, you must read it all.
Addendum: To add to your discomfort this morning, see Ann Coulter, here.