In my previous post we learned that an Iraqi refugee (from a Special Immigrant Visa holder family) has been arrested in New Hampshire for the murder of a man who was once his neighbor.
(Local news reports say that the alleged killer's father was a driver for western and UN diplomats, so I am assuming they are an SIV family.)
The story reminded me that I wanted to fill you in about where we stand with admitting these 'special refugees' who supposedly once helped us in Iraq and Afghanistan.
Related posts lately include my number crunching for the regular refugee program and for the Unaccompanied alien children (teens!) program which can be found here and here.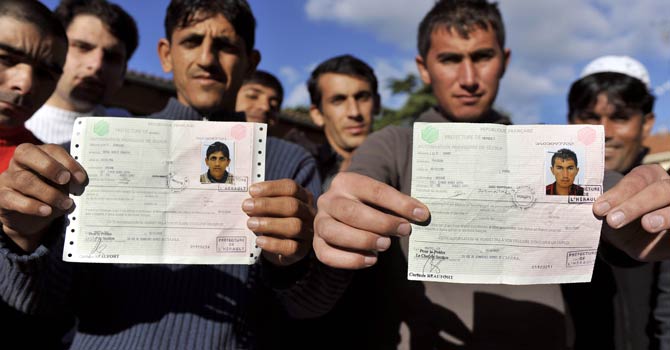 The Special Immigrant Visa program is one more legal immigration program.
The number of SIVs from Iraq has dropped under the Trump Administration, but Afghanistan is another story.
The numbers coming in are huge!

And, this is what I wonder: If we bring to the US all of those supposedly educated Afghans supposedly friendly to the US, where does that leave Afghanistan, with a population completely comprised of people who don't share our values and don't like us?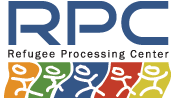 Here below are some screenshots of portions of the Refugee Processing Center data base for Afghanistan (unfortunately I can't fit all of it on a page).
If you want to see how many your state welcomed, go here, and then download the spread sheet.  (I'll give you instructions below about how to find the data.)
The columns begin with FY 2007 and the whole data base shows in which states the refugees and special immigrant visa holders were placed.
This is the last few years since Trump took office.  The numbers I captured in this shot are for Alabama, Arizona and Arkansas.  And of course the cumulative column.




Now this is the bottom of the columns for FY 2017, FY 2018 and FY 2019 and cumulative.  Those bottom three states are:  Washington, West Virginia and Wisconsin.



But look at that number! We admitted 10,000 plus refugees from Afghanistan from FY07 up to the present time, but they were joined by over 56,000 Special Immigrant Visa holders and their family members!  Really! That many people helped us in Afghanistan!  I don't believe it. Did we bring everyone who took out the trash in some office somewhere?
Of the 56,411 we admitted almost 31,000 were resettled in America during the Trump Administration!
They were spread throughout the country with these top five 'welcoming' states getting the most:
California: 20,752
Texas: 8,418
Virginia: 7,782
Washington: 3,078
Maryland: 2,900
I've been told that it is the SIVs that are helping to keep the nine federal resettlement contractors in the money as Trump slowed the regular refugee numbers.
While Afghan numbers are still increasing, Iraqi numbers are now slowing.  However, since 2006 we have taken in huge numbers of Iraqis to live here permanently as new Americans—more regular refugees and fewer SIVs than from Afghanistan. 
From October 1, 2006 to May 27, 2019
Regular refugees:  142,943
Special Immigrant Visas: 18,455
How do you find this data?
First go to the US State Department's Refugee Processing Center, click here.
A portion of the page looks like this.  When you are at the site, click on the the lines I've checked to download spread sheets for Afghanistan and Iraq.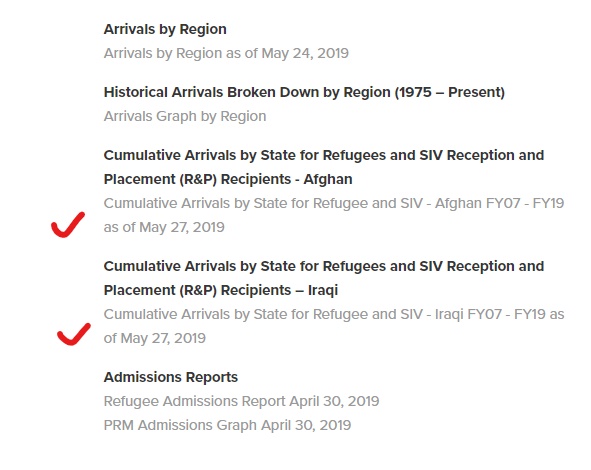 There is lots of useful data there, so have fun!
As we fixate on the border crisis, remember that there are myriad ways migrants of all stripes are becoming your new neighbors—not just in big cities, but in places like little Laconia, New Hampshire.
And, the mainstream media is staying mum about it!  Gee! why no Leftwing praise for Trump on his welcoming embrace of Afghans!