As I mentioned last month, the Kenyan government wants the United Nations to close the massive camp—Dadaab—soon!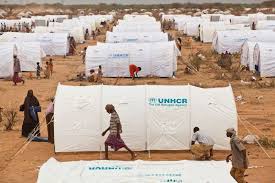 The UN is between a rock and a hard place after trying and failing to get large numbers of Somalis to go home to an increasingly stable country (well, stable for Somalia!), while Europe and the US have wearied of moving Somalis to the West.
As you know President Trump has nearly stopped the resettlement of Somalis to your towns and cities (a few are still trickling in!).
If Trump is no longer in office come January 2021, you know a future Democrat President will open the Somali spigot wide to make up for the 'Trump lost years.'
So keep an eye on Kenya!

From the Daily Nation,
Somalis 'unwilling' to leave Dadaab camp: Report
Nearly half of recently surveyed Somali residents of the Dadaab refugee complex say they have no intention of returning to their homeland due to concerns about violence, drought and lack of services.
Their stated determination to remain in Dadaab until conditions dramatically improve in Somalia appears to put much of the camps' population on a collision course with the Kenyan government, which plans to close Dadaab by the end of August.
210,038
The number of residents in the complex has increased in recent months despite a United Nations-run voluntary repatriation programme.


Dadaab considered the world's largest refugee camp.


Nearly 80,000 Somalis have returned home over the past five years through that initiative.
But the UN programme appears to be faltering.
Only 110 Somalis were assisted in returning home during the first two months of this year.
Moreover, at least 2,500 Somalis have come back to Dadaab after being repatriated through the UN programme.
Dadaab's total population stood at 210,038 at the end of February, according to the UN refugee agency, which administers the camps.
[….]
In keeping with the anti-immigrant views prevalent in the US and much of Europe, rich countries are also doing little to resettle Dadaab refugees.
Interviews that could potentially lead to resettlement were conducted with 78 Dadaab residents in recent months on behalf of the UK, Sweden and Canada, the UN notes.
The Trump administration has prohibited Somalis from emigrating to the United States.
Kenya would like to close Dadaab (they say it is breeding terrorists!) within six months.
In an internal UN document recently leaked to the French Press Agency, the Kenyan government had indicated in February that it wanted to close Dadaab within six months.
The government asked the UN refugee agency to therefore "expedite relocation of the refugees and asylum-seekers residing therein."
Much more here.
And, don't miss my post on fraud and corruption at UN camps, here.
Keep an eye on this because in the past US Presidents have said YES to the UN when the UN wanted to clean out

their

camps!