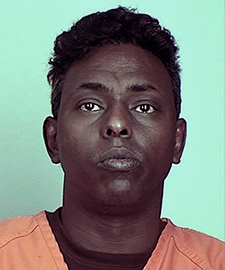 But, the Somali "community" of Minneapolis doesn't believe that Abdi Yusuf Hassan is guilty of the charges and they gathered at a Twin Cities Courthouse with their long-established mouthpiece Omar Jamal to proclaim his innocence.
Hassan is most likely one of tens of thousands of Somalis welcomed by the federal government and US State Department resettlement contractors and placed in Minnesota—a 'new American' indeed!
First see the AP story about Hassan's arrest,

US citizen charged in kidnapping of journalist in Somalia
MINNEAPOLIS (AP) — A U.S. citizen has been charged with kidnapping and other counts for his alleged role in the abduction of a freelance journalist who was held hostage in Somalia for nearly three years, according to federal charging documents unsealed Thursday in New York.
According to a criminal complaint, Abdi Yusuf Hassan was part of a conspiracy to kidnap the journalist in January 2012 in Galkayo, Somalia, and demand $20 million in ransom. The journalist was released Sept. 23, 2014.
While the journalist is not named in the complaint or in a superseding indictment, the dates of his capture and release, and several details outlined in the court documents, match the experiences of author Michael Scott Moore, a German-American who was abducted by pirates in Somalia while he was there writing a book about piracy.


Journalist Moore. His family ultimately paid $1.6 million for his release


Moore's publicist said he was unreachable for an interview Thursday. In November, Moore confirmed to the New York Times that another man indicted in the case, Mohamed Tahlil Mohamed, was one of his captors. Mohamed and Hassan are listed as co-defendants.
According to court documents, Hassan, 51, was born in Mogadishu and is a naturalized U.S. citizen. He faces six counts, including kidnapping conspiracy, hostage-taking conspiracy and unlawful use of firearms.
He was arrested in Minneapolis on Friday and will be returned to New York to face charges. It was not immediately clear if he had an attorney in New York to comment on his behalf.
[….]
The complaint says Hassan spoke English and was a translator for the hostage takers; the journalist, who identified Hassan from a lineup, said he also appeared to hold a leadership position over the other guards.
Much more here about the details of the kidnapping.
Now this, from CBS-Minnesota…
The Somali community led by none-other than the Somali Jesse Jackson, Omar Jamal, came out to the courthouse to say the feds have it all wrong.  He, Hassan, was just there to help free kidnap victims.
Minneapolis Man Accused Of Holding American Journalist Hostage In Somalia
MINNEAPOLIS (WCCO) – A Twin Cities man has been indicted for allegedly helping co-conspirators hold a journalist captive for more than two years.
Abdi Yusuf Hassan, who moved to Minnesota in 1998, is accused of holding three people hostage on the coast of Somalia.
[….]
On a crisp winter day, dozens from one of Minnesota's strongest immigrant communities stood together to stand behind Abdi Yusuf Hassan, filing into the Minneapolis courthouse.
A loved one told WCCO-TV, "He's innocent, completely innocent."
Omar Jamal is back! 
I haven't seen him mentioned for a long time.  I've followed his 'career' (going back more than ten years!) as he was the mouthpiece for any Somali in trouble in Minnesota (and elsewhere!) for anything at anytime!  Jamal was not a refugee, but had actually gotten into the US illegally from Canada and was never removed.  For at least a dozen posts on Jamal go here.
Don't miss one of my favorite stories about Jamal, here in 2008, when I coined his nickname—Somali Jesse Jackson!
CBS continues….
Federal papers show the captured journalist identified Hassan as one of the leaders of the operation. According to the indictment, Hassan speaks English and served as a translator for the hostage-takers and regularly communicated with the journalist.


Omar Jamal: the community activist go-to guy for the media!


Community activist Omar Jamal testified in court Thursday on behalf of his friend.
"He was in no way, shape or form that he was involved. Having known him for 20 years, the kind of guy he is, I don't think so," Jamal said.
He says Hassan has been working in Somalia the past few years to help rebuild the government, and that Hassan was simply helping translate negotiations with the journalist's kidnappers, trying to help.

Since the community is so close-knit, I wonder if the alleged kidnapper Hassan is a friend of

Ilhan Omar

? Does anyone know? Maybe a contributor to her political campaign?