For me, as goes Stephen Miller, so goes the nation!***
Miller, if you don't know, was Senator Jeff Sessions chief aide on immigration when Sessions was the Senator holding his finger in the dyke to stem the flood of illegal and LEGAL immigration flooding America.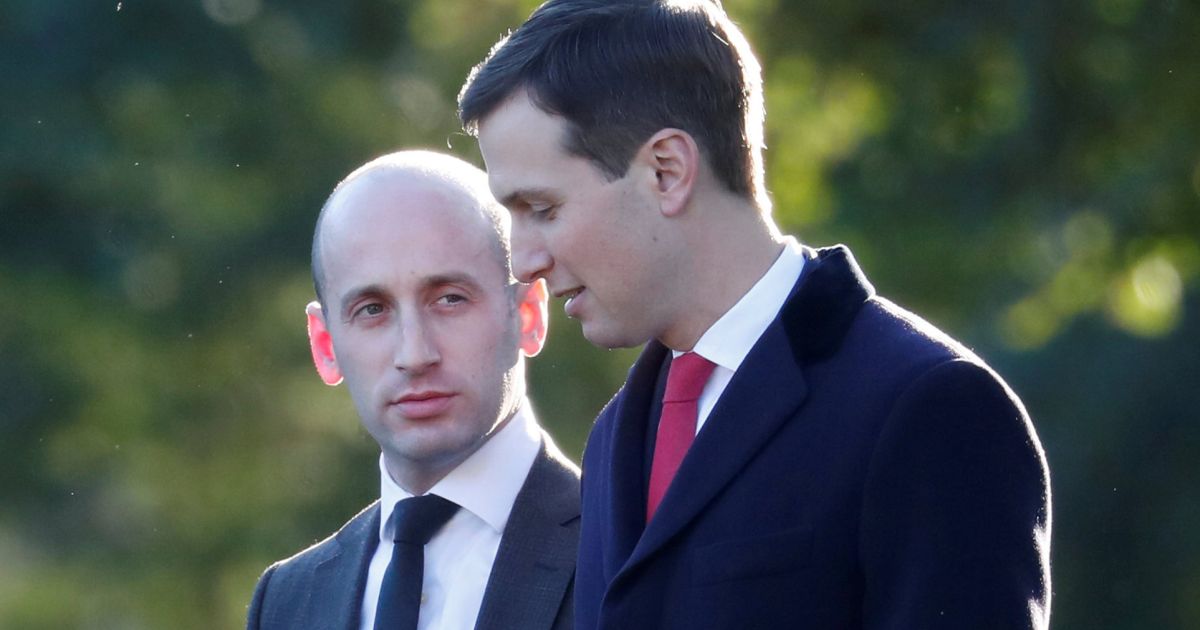 The Dems want the "new American" voters and powerful business interesting in the Republican Party want a large pool of immigrant laborers to compete with American workers for jobs (at all levels!).
Now we are learning that Miller, who is one of only a few who went from the campaign to the White House with Trump (and survived, so far) is being sidelined as Jared Kushner, the first son-in-law, wants to practice his bipartisan deal making skills on the issue of immigration.
Here is McClatchy reporting on Kushner's latest play,
Jared Kushner privately working on reshaping legal immigration
And, pushing Stephen Miller to the sidelines?
WASHINGTON
As debate in public rages about illegal immigration and a border wall, Jared Kushner has been holding private meetings in the West Wing on ways to overhaul the legal immigration system, according to six people familiar with the conversations and documents obtained by McClatchy.
President Donald Trump's senior adviser and son-in-law is operating on at least two tracks — the first is working with a small group studying specific ways to redistribute employment visas and the second is helping lead a series of "listening sessions" with about three dozen interest groups important to Trump to see if there is a position that Republicans can rally around before the 2020 elections.
[….]
What is clear from conversations with participants and both current and former Trump officials is that Kushner has helped kicked (sic) off a fresh discussion on immigration that reflects a new paradigm in the White House. It's a shift away from priorities of 2017 that sought to prevent the influx of foreign workers who could displace American workers in favor of a new approach preferred by more traditional Republicans, particularly those close to the corporate sector who are desperate to attract more foreign workers to fill U.S. factories and tech hubs.
[….]
According to meeting agendas obtained by McClatchy, those invited to sessions with Kushner come from some of Trump's core constituencies in the worlds of religion, law enforcement, agriculture and business. They include the U.S. Chamber of Commerce, Heritage Foundation, Association of Builders and Contractors, Faith and Freedom Coalition, Council on National Policy, George W. Bush Center and Select Milk Producers.
I want to remind readers that the Heritage Foundation may be good on illegal immigration, but they sure did get wobbly on refugees awhile back, so I wouldn't count on them being your voice at these meetings.  The U.S. Chamber of Commerce openly supports more immigration of all kinds. I don't know what the Faith and Freedom Coalition's views are on immigration, do you?
Kushner wants a deal!
"He's a smart guy," one of the participants said. "But he doesn't care about the issues. He's there to find out where the deal is. Where is the sweet spot?"
The senior administration official said the White House is rethinking some policies that it supported before, such as the Sen. Tom Cotton's RAISE Act, which would institute a merit-based system to determine who is admitted to the country — that the White House continues to support — but would also slash legal immigration.

"The president said many times he wants to raise immigration," the official said.
Such language is concerning to conservative immigration groups. Indeed, between Kushner's business background and the large number of guests with corporate interests, conservatives are worried that the changes Kushner is pursuing run counter to Trump's "Hire American" priorities.
"There is a real dance going on in the White House on all the legal immigration issues as they work on their vision for reform," said Jessica Vaughan, director of policy studies for the Center for Immigration Studies, who is in regular discussions with the administration. "It's hard for me to tell sometimes what is based on actual policy goals and what is meant to assuage an interest group and who is just being stroked and whose ideas have been convincing to Kushner and his group."
Kushner edges-out Stephen Miller!
Adding to that anxiety is the feeling that Kushner has edged out Stephen Miller, Trump's chief architect on some of the toughest proposals and a favorite in conservative circles, in the policy area on which Miller is best known.
"That is how you have to understand it," said a former Trump official who remains in contact with White House officials. "And look, Steve may be willing to go along with it, because he's there for the long game. And there is always other battles to fight. He's more strategic than people think he is. But there is no doubt that he's not getting what he wants out of this move."
The White House emphasized that discussions are still in the early stages. It could take weeks or months before anything is presented to the president. Trump may also decide not to do anything with the information if they can't get enough buy in.
More here.
While we are beguiled by the media on the subject of the Smollett hoax, a serious policy shift could be occurring in the Trump White House.
By the way, NumbersUSA, the largest grassroots group concerned with protecting American workers by keeping immigration numbers low is very concerned by what they are hearing.  See one story here.
What do you do?  Let the White House know what you think about the Kushner coup going on under the President's nose.  Do it today and every day! Your job is to make your voices louder than those of the Open Borders forces and thus keep the White House on track!
***Stephen Miller is my barometer.  I can't imagine him staying if the Trump White House gets too wobbly on immigration and if he is fired (like Bannon and others) then you know it's all over for those of us who want to see immigration numbers lowered.