This is a story from UPI last week that has been languishing in my posting queue.
It's a longish story, but worth reading if you want to know more about life (the good life) in a shelter for the "children" who have come across our border illegally and unaccompanied.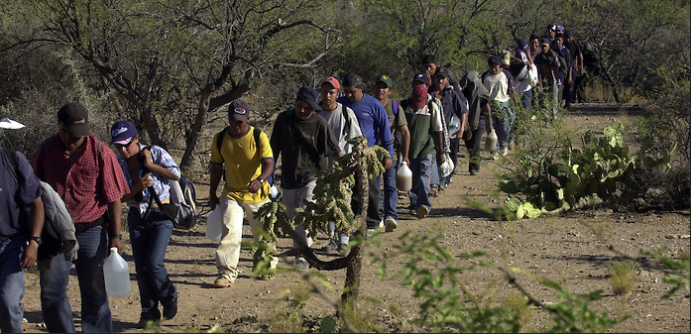 I'm only going to bring your attention to a couple of points, one that made me laugh, the other that should infuriate you as it did me!
The point that makes me laugh is this! 
The Office of Refugee Resettlement shelter (never mind that they are not refugees!) houses up to 1,600 youths older than 13.  However, in almost every paragraph (there are 53 paragraphs!) in the story the teens are referred to as "children."  In fact, the word "child" or "children" is used a whopping 63 times (twice in some paragraphs) while the word "teen" or "teenager" is never used, not even once!
Just that one little linguistic trick is meant to direct your thinking so that you imagine hundreds of little children missing mommy and daddy and crying themselves to sleep each night.
And it infuriates me to read that 670 of the "children" are 17 and older and as they age-out at 18, a big hunt begins to find them "sponsors" to take charge of them so that they aren't turned over to ICE.
Here are the opening paragraphs of the UPI story,
Feb. 13 (UPI) — A month after federal officials removed the last child from a facility in Texas, 1,600 unaccompanied migrant children are being housed at a so-called temporary emergency shelter in Florida.
The U.S. Department of Health and Human Services invited UPI and other media on Wednesday to tour the facility in Homestead, Fla., which is located in a former Job Corps facility near the Homestead Air Reserve Base. It is used as a shelter for what HHS calls "unaccompanied alien children," or UAC — migrants between the ages of 13 and 17 who have no lawful immigration status and no legal guardians able to provide care in the United States.
Since March 2018 more than 6,000 children have been placed at the site and about 4,450 have been discharged to what the department considers suitable sponsors — generally a parent or some other relative — in the United States, according to HHS.
At the time of UPI's visit, 1,575 children were being sheltered at the facility — 1,143 males and 432 females.
Now check this out!  43% of the "children" are between 17 and 18 years old! (Or, they could be older, see my next post!)
The south campus houses 905 children between the ages of 13 and 16, including 634 males and 271 females, while all 17-year-olds at the facility live on the north campus, which houses 509 males and 161 females.
In case you wondered what happens when the "children" turn 18:
Three months before a "child" turns 18, the sponsor hunt begins in earnest.
Children who turn 18 while in custody at a shelter are considered undocumented immigrants and are released to authorities, Weber said.
There were 21 such cases at the Homestead facility last month and 90 in the past year, the Homestead program coordinator said.
A team of case managers at the facility focuses on finding sponsors for children within three months of their 18th birthday and the program coordinator receives daily reports regarding their status in the two weeks before those children turn 18.
Read the whole story, it is worth your time.
Remember, YOU are paying for all of this!  And, more are on the way!  You MUST scream at your elected officials—'Enough is enough!'—and do it at every opportunity!  Today, you might tell the President (again!) by going to the White House comment page and voicing your opinion.