Okay, okay, that is not a surprise, but what is a surprise is that CNN is reporting it and using the word "sharia."  
If Pamela Geller, Robert Spencer, or Frank Gaffney uttered the following words, cries of "Islamophobia" would be screamed from the roof tops by the likes of Linda Sarsour!
Ben Wedeman, in a CNN story this morning, reports of his interviews with two Canadian women who followed their men to Syria because of Islamic law.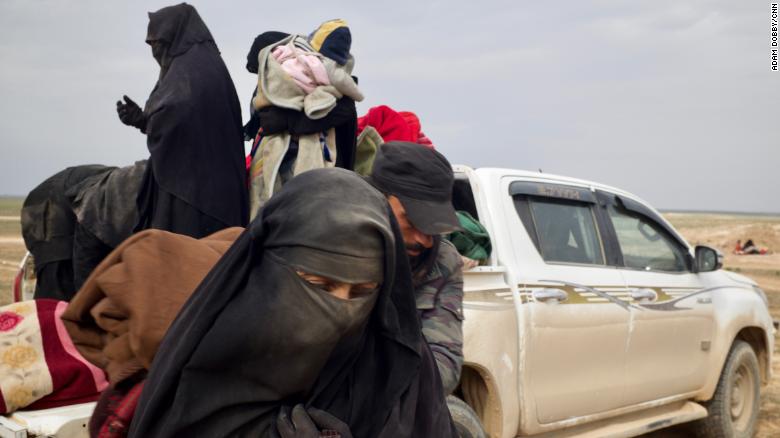 Canadian women emerge from ISIS's crumbling caliphate
The first woman quoted is Dura Ahmed, 28, originally from Toronto, Canada:
"Did you hear about the slaughter of Yezidis, of Yezidi women being enslaved?" I asked.
"When I came here, I heard. I haven't seen one, but…" Her answer trailed off with a nervous laugh. "Well, having slaves is part of Sharia," she finally ventured. "I believe in Sharia, wherever Sharia is. We must follow whoever is implementing the way, the law."

The second woman is a 34-year-old from Alberta, Canada:
She, too, came to Syria at her husband's bidding.
"He's like, 'it's obligatory for you to come here. You have no choice, and as your husband I'm telling you to come here.' And as a Muslim wife you have to obey, even though it was really hard for me to do it." She takes a deep sigh. "I had to."
Like Dura, she claims she knew nothing about ISIS or Syria before she made the journey here.
Not that it matters, but the woman from Alberta's first husband (the one who insisted she come to Syria) was killed in the fighting and then she took another husband who also was killed in the fighting.
Read it all here.  Will Canada be welcoming home its wayward women?
I shouldn't get too excited that there could be a few truths sneaking into reports from the likes of CNN!
If you see more bits of news that might indicate a diversion from the Leftwing orthodoxy on Islam, immigration, etc. would you send a link my way?  Let me know if you hear the word "sharia" on Fox News or any cable news network!