Sure looks like it.  Big League Politics posted a story yesterday with a photo that may have been taken down, but was up until the 2018 Midterm elections, they say.
Sheesh, Virginia is for crooks and cheats!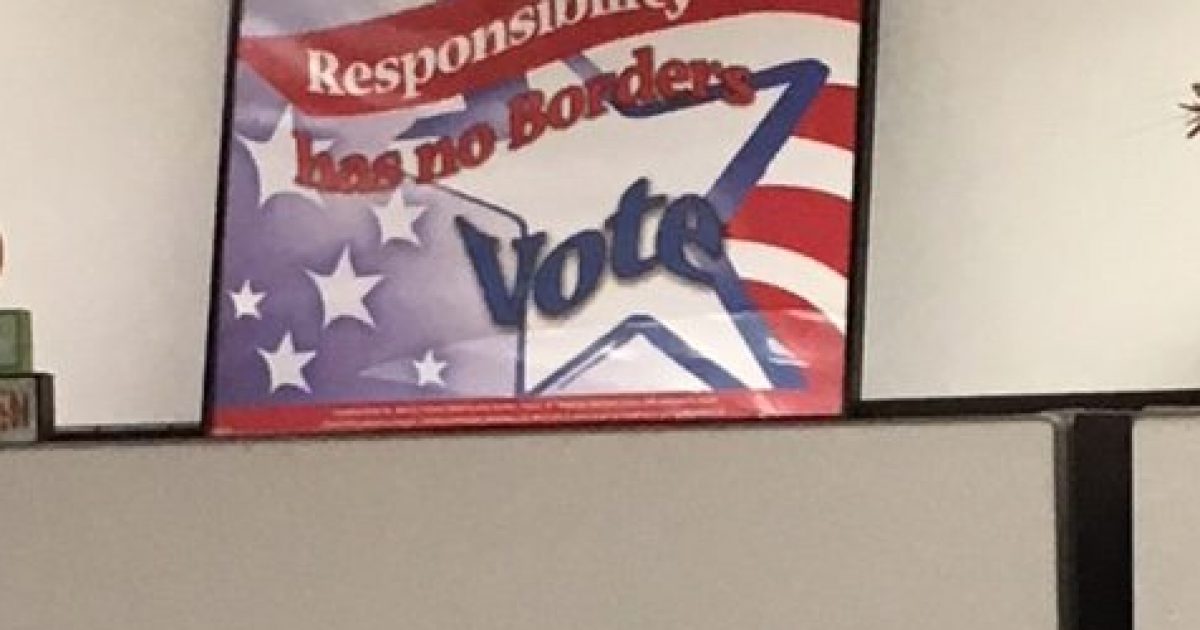 If you have not heard of Big League Politics, an on-line news site that says it is much tougher than Breitbart, you need to learn about it.
Big League Politics is responsible for breaking the news about the hypocrites and the alleged sexual aggressor leading Virginia's present-day Democrat Party.
Read what the New York Times has to say about the site. They charge BLP with promoting "conspiracy theories"—a favorite line of attack by the mainstream media against on-line conservative media.
Truth be told, it is sites like this that could ultimately finish the big newspapers.
Now here is a story from yesterday,
EXCLUSIVE: Sign At Virginia Election Office Says, 'Responsibility Has No Borders. Vote'
A sign at the Arlington County Department of Voter Registration and Elections office in Virginia gives immigrants a clear message: "Responsibility has no Borders. Vote."
The sign is in a public area of the office, visible to people at the counter as they are registering to vote or voting absentee. The photo is from 2016, but it was still up in the office during the 2018 midterm election. Our tipster inquired about it and was told that it's part of a "historical display," whereas other authorities just ignored it and said there's nothing that can be done about Arlington County, which describes itself as a "welcoming" but not a "sanctuary" jurisdiction for illegal immigrants.
"I'm an Arlington county election officer. Arlington County VA is essentially a sanctuary city for illegal immigrants/noncitizens. These signs are posted at the Arlington County election office. Voter fraud is more likely to take place at the time of registration rather than at the polls, in my opinion," our tipster told Big League Politics.

More here
Then be sure to visit BLP for more information including this below.
It is rare to see a site that so prominently appeals for hot news tips.


What do you do?  Go around the mainstream media and tell your friends to do the same. Read as much as you can on sites like Big League Politics!  And, don't rely on cable news!