If you followed my other blog RRW over the Trump years, you know that the Leftwing NO-borders groups and the refugee contractors sued Trump for every move he made to limit immigration and attempt to reform refugee resettlement policy.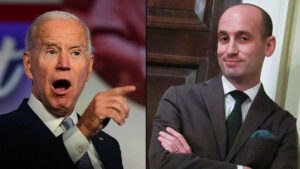 Now, Stephen Miller, surely one of the few aides outside the President's own family who was with Trump from the campaign (joined the campaign in January 2016) and through all four years of the administration is launching a new legal outfit to sue Biden on immigration and to defend a whole host of other America First policies.
You can read a boring version of the news at Politico which argues that there are plenty of rightwing legal outfits (there are not!) so why create another one, or read a progressive slam at Miller here yesterday at something called laughably The American Independent.
White nationalist Trump adviser now working with GOP to sue Biden over immigration
(Editor:  Just know that they wore out the word "racist" so anyone who believes in America First is called a "white nationalist." Get used to it!)
Stephen Miller's new group is advising states that are suing the Biden administration to block its policies.

Stephen Miller, a white nationalist and senior aide in the Trump White House, is working behind the scenes through his organization America First Legal to assist Republican attorneys general who are suing the Biden administration over immigration issues.

Miller was responsible for designing some of the Trump administration's key policies targeting immigrants, including the separation of immigrant children from their families at the U.S.-Mexico border and the ban on travelers from Muslim-majority countries entering the United States.

Appearing on "Fox & Friends" on Wednesday, Miller disclosed his group's work behind the scenes.

"My organization has been working with several of the states that are now suing the Biden administration over their lawless and reckless policies, including, for example, the states of Texas and Arizona," said Miller.

Texas Attorney General Ken Paxton is suing the Biden administration over what he and Missouri Attorney General Eric Schmitt call President Joe Biden's "arbitrary and capricious decision" to rescind Donald Trump's "remain in Mexico" policy of forcing immigrants seeking asylum to stay in the country in possibly dangerous conditions until their claims were processed.

Mark Brnovich, Arizona's attorney general, is suing the Biden administration for halting construction of Trump's wall on the U.S. southern border and having "embarked on multiple environmentally disruptive policies without performing even cursory environmental analysis."

Miller announced the launch of America First Legal on April 7, telling the Wall Street Journal that in addition to fighting the policies of the Biden administration, the group plans to oppose police reform and challenge tech companies and other businesses whose positions run counter to those held by conservatives.

In addition to the child separation policy and the ban on Muslims coming into the country, while in the White House Miller also zealously pursued policies to severely limit the number of refugees who could enter the United States.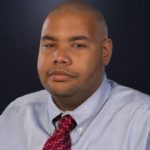 Here Oliver Willis, the American Independent reporter, attempts to make fun of Miller but instead shows his ignorance of history as he reports on the time Miller schooled CNN's Jim Acosta on the Statue of Liberty.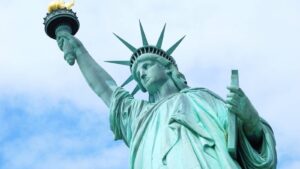 Asked by reporter Jim Acosta in 2017 whether his anti-immigrant policies violated the spirit of Emma Lazarus' poem "The New Colossus," with its exhortation, "Give me your tired, your poor/Your huddled masses yearning to breathe free," attached to the base of the Statue of Liberty, Miller argued against the statue as a symbol of welcome, saying, "The Statue of Liberty is a symbol of liberty and light in the world. It's a symbol of American liberty lighting the world. The poem that you're referring to that was added later is not actually part of the original Statue of Liberty."   
Yup, Miller was right.  Jim Acosta and reporter Willis are ignorant.  Willis goes on….
Miller's white nationalist views were evident before he worked for Donald Trump.
Tangle Chairman Joe's team in legal knots!  Turnabout is fair play and I, for one, love it!
If you wondered where I was yesterday, I was busy at RRW on a post that couldn't wait until my weekly round-up.  See that Biden has the refugee contractors in a tizzy because he is on target to admit a lower number of refugees than Trump ever did.