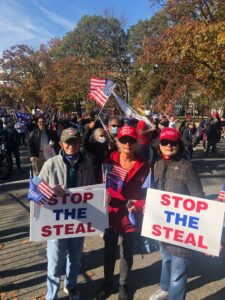 "Stop the Steal" ist verboten!
As my friend Cathy said when she sent this news: "All this BEFORE Inauguration Day.  Just imagine what comes AFTER."
But in a very big surprise, the Epoch Times is reporting that the FAR Left ACLU has spoken out against the removal of President Trump's own Twitter and Facebook pages.
Facebook Removing All Content That Mentions 'Stop the Steal' Ahead of Inauguration Day
Facebook announced on Monday it is removing all content that contains the phrase "stop the steal" ahead of President-elect Joe Biden's Inauguration Day on Jan. 20.

The company issued a statement saying it was removing content containing the phrase that was used by supporters of President Donald Trump to question the integrity of the 2020 general election. Trump supporters held multiple rallies across the country called "Stop the Steal" following the Nov. 3 election.

Monika Bickert of the Facebook speech police

The social media company said that the move is an attempt to remove content that "could incite further violence during these next few weeks." Content will be removed under the company's Coordinating Harm policy.

"We've been allowing robust conversations related to the election outcome and that will continue," Facebook officials Guy Rosen and Monika Bickert said in a statement.

"But with continued attempts to organize events against the outcome of the US presidential election that can lead to violence, and use of the term by those involved in Wednesday's violence in DC, we're taking this additional step in the lead up to the inauguration."
LOL! I have been looking for an opportunity to use this tweet.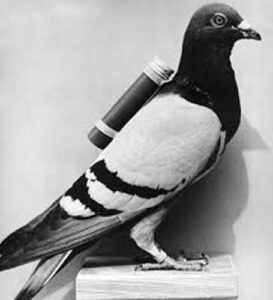 Remember!  Obama's idol Saul Alinsky taught that ridicule is the most powerful political weapon—use it every chance you get!
Meanwhile, this is big news!
The Leftists at the ACLU are concerned about the blanket removal of Trump from social media.
Frankly those ignorant-of-history punks running Facebook and Twitter don't understand the consequences of attempting to drive political opponents underground, especially one with 70-80 million angry followers.
The American Civil Liberties Union (ACLU) also expressed concern over Twitter's decision to suspend Trump from social media, saying that it could set a precedent for big tech companies to silence voices.

"We understand the desire to permanently suspend him now, but it should concern everyone when companies like Facebook and Twitter wield the unchecked power to remove people from platforms that have become indispensable for the speech of billions— especially when political realities make those decisions easier," the ACLU statement read.
I'm going to post this story at my Facebook page for Refugee Resettlement Watch and see if it is blocked.  You should try it on your Facebook pages too.