It sure isn't a big surprise to hear this is happening, but so good to see that there are people with a backbone willing to step forward and expose Tech Tyranny.
That is what (now former) Facebook tech, Morgan Kahmann, told Project Veritas.  His bottom line, no matter what happens to him, is that he wouldn't be able to live with himself if he did not speak out.
His message to others in his situation—Yes, there will be blowback, but weigh it out.  If you don't speak up can you live with yourself for the rest of your life?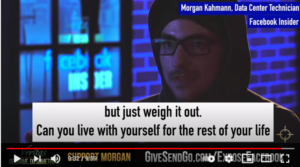 Watch Kahmann's whole interview with James O'Keefe of Project Veritas here:
And, here he is on Tucker Carlson last night:
The whistleblower wraps with a pitch for his GiveSendGo account.  I don't fault him one bit for making a pitch for financial help for his young family.
Maybe if we handsomely reward whistleblowers, more will be willing and able to come forward  to expose the truth about big tech censorship that is out to destroy our Constitutionally granted right to free speech.