***Update here*** thanks to a reader!
Apparently the fascists running Joe Biden's government these days don't like what Nick Fuentes says since he has not committed any crimes.  Scary stuff!
The story is at VDARE, a website the Left abhors and so therefore you should visit it often even if you don't agree with every word they publish.
Fuentes is apparently being harassed because of his political activities in support of America First and Donald Trump and because  his speech is uncomfortable for some tender ears.
Remember the old adage….First they came for Nick!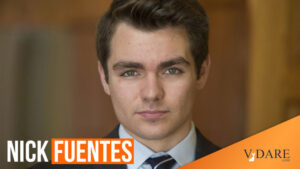 America First Patriot Nick Fuentes Put On No-Fly List
America First host Nick Fuentes can no longer fly on an airplane. He announced Tuesday that he couldn't check into his flight because the authorities didn't clear him to fly.

[….]

Fuentes believes he was put on the no-fly list due to hysteria over the Capitol protests. He has suffered numerous bans since January 6.
Fuentes was on his way to Florida for a press conference and rally against Big Tech and for Governor DeSantis push to rein-in the power of the tech giants in his state.
Here Fuentes posted news on the gathering of free speech advocates on Twitter last Friday.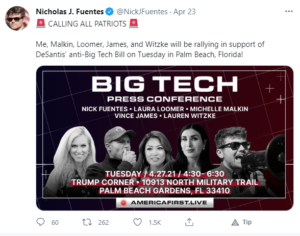 You probably noticed that Fuentes is at least still on Twitter when yours truly was suspended back in January.
VDARE notes that Glenn Greenwald, a staunch defender of American civil liberties no matter which side of the political divide one resides on, came to Fuentes' defense.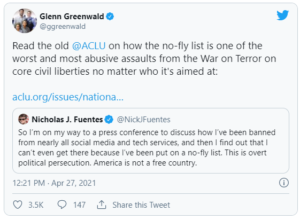 This could be you someday, but that is no reason to pull any political punches in these difficult times.
And if this is the first time you have heard of Nick Fuentes, he is the host of a podcast America First Live.  
Check it out!
LOL!  By singling Fuentes out like this, those seeking to silence him may just have broadened his audience.