This is a follow-up to my recent post in which I discussed whether you should consider moving in order to live in a community whose members share your values and ideals.
Well, to help you make that decision, The New York Times published this week news about a site where you can type in your address, or the address of a home you might be considering, and find out just who your neighbors are—politically that is!
Do You Think You Live in a Political Bubble?
America is increasingly politically polarized. How politically diverse do you think your neighborhood is? Do you think your neighbors are mostly Democrats or Republicans? Do you think you live in a partisan bubble?
In "Do You Live in a Political Bubble?," Gus Wezerek, Ryan D. Enos and Jacob Brown designed an interactive tool to help you find out. Enter your address to see the political party of the thousand voters closest to you and see if the data matches your answers above.
Click that link above 'Do You Live in a Political Bubble?, type your address into the search bar, wait a few seconds and if you live near me, this is what you will get….  Cool!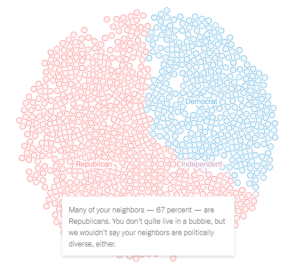 However, all Republicans are not equal.  Tomorrow I'll post on the 100 RINO elitists who plan to break away from the Republican Party if the party continues to support Donald Trump, the "radical" who supports us—the deplorables.
Besides the people, consider this when buying rural property….
When people mention to me that they are looking for country property there is another major consideration.  You must find out if the federal government adjoins your prospective property.
I found that out the hard way in the late 1980s, but it's been quiet lately. For a number of recent years the greedy feds have not been out in a big way seeking to expand control or outright ownership of land for parks and forests etc.  Unfortunately that monster is likely already rising as the extreme Left expands its power.
It is all part of their communist dream world!
Do not buy rural property that shares a property line with any federal, or state-owned land, for that matter.