***Update***  The UK Daily Mail has a lengthy story with photos and clips from the chilling video.
I guess we will see if Cash Gernon's life mattered.
We will know the answer if this story lasts for longer than a day or two more.
The horror reminded me of the murder of Cannon Hinnant last summer.
From the New York Post:
Teen busted for allegedly kidnapping sleeping boy later found dead on Texas street
A teen suspect has been arrested for allegedly breaking into a Dallas home and kidnapping a sleeping 4- year-old boy who was later found dead on a street, authorities said Monday.

The child, who suffered multiple fatal wounds from what police say was an "edged weapon," was identified Sunday by his grieving guardian as Cash Gernon, WFAA reported.

The "happy-go-lucky" boy was sleeping when a suspect, identified by cops as 18-year-old Darriynn Brown, barged into his home through a back door and kidnapped him on Saturday, his guardian said.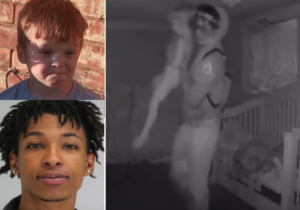 Brown is now charged with kidnapping and theft in connection to Cash's death. He is being held on $750,000 bail, according to the Dallas Morning News.

Brown was busted for evading arrest in late April and the case is still pending, the newspaper reported. Court documents show he lived with his parents just a half-mile from where the boy's body was found.

An initial WFAA report the accused kidnapper was wearing an ankle monitor at the time of the abduction is inaccurate, according to the Dallas County Sheriff's Office.

The boy's grieving mom said she had no idea what allegedly led Brown to target her son, whose body was later discovered in the street by a jogger early Saturday. The teen suspect did not know Cash, his guardian told the station off-camera.

Surveillance video also captured the kidnapping, the guardian added. Investigators asked neighbors Sunday for any additional footage to help them piece together what happened, WFAA reported. Some nearby residents told the station Brown was regularly seen in the city's Mountain Creek section.
I have a lot of questions, and I guess you do too.  How is that no adults in the house heard anything?  Was the house unlocked?  They seemed to have enough sense to have a home security system of some sort, so again how does someone walk out of a home carrying a small child and no one notices.
Could this killing be some sort of gang initiation?
Whether you have young children in the home or not—be sure you lock your doors and have a home security system, a dog maybe and a firearm.  Life is not going back to the '50s and '60s—a time some of us can remember with some longing for that simpler time.
Spread this story far and wide (the corporate media won't likely do that), if for no other reason than to make people more aware of the dangers facing us in the age of BLM supremacists.