…. the nation has a "moral responsibility to end homelessness."
(Biden's new HUD secretary former Rep. Marcia Fudge)
Dear Ms. Fudge,  Good luck with that!
Yesterday I wrote about where one could live in peace in America.
Add Phoenix, and Arizona generally, as a place to avoid as homelessness grows for veterans and families while illegal aliens are given hotel rooms and three meals a day by the Biden (Americans last!) administration.
Take a couple of minutes to watch this youtube video below sent by a reader.
For those of us fortunate to live rural, or small town America, lives we are insulated from the deplorable conditions in most major Democrat run cities, including Phoenix where gated communities separate the elite from the homeless population.
(Most US cities of any size are run by Democrats.)
Homelessness is on the rise in America and NPR told us that in March.
The conventional wisdom for the rise is that living outdoors is healthier than indoors during the China Virus crisis.
But hotels are just fine for the illegal aliens?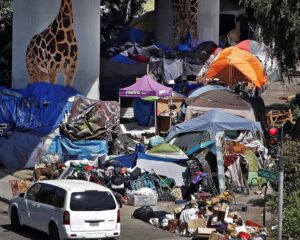 In fact, some cities, like socialist San Francisco went so far as to sanction homeless camps to help fight the virus.
According to the Toronto Star, Phoenix was one of those cities, run by Democrats, that has normalized homeless encampments supposedly to keep the poor from getting sick.
Just for 'fun' search for images of homeless camps in America and you will wonder if this is really America, or some third world hell hole you are seeing.
Here is NPR on the rise in homelessness in America—even without the virus excuse.
HUD: Growth Of Homelessness During 2020 Was 'Devastating,' Even Before The Pandemic
The nation's homeless population grew last year for the fourth year in a row. On a single night in January 2020, there were more than 580,000 individuals who were homeless in the United States, a 2% increase from the year before.

Marcia Fudge, Ben Carson's replacement at HUD. https://en.m.wikipedia.org/wiki/Marcia_Fudge

The numbers, released by the Department of Housing and Urban Development Thursday, do not reflect the impact of the pandemic.

"And we know the pandemic has only made the homelessness crisis worse," HUD Secretary Marcia Fudge said in a video message accompanying the report. She called the numbers "devastating" and said the nation has a "moral responsibility to end homelessness."

Among the report's more sobering findings: homelessness among veterans and families did not improve for the first time in many years.

[….]

As has been the case for years, a disproportionate share of those experiencing homelessness were Black — about 39% of the total, though African Americans make up about 13% of the nation's overall population. Twenty-three percent of those who were homeless last year identified as Hispanic or Latino.
I had no idea so many 'people of color' make up such a large percentage of the homeless. It seems, at least to me, that most photos of homeless people in corporate media reports show White drug-addled derelicts.
So why isn't Black Lives Matter supporting their Black brothers instead of encouraging more immigrants who will continue to compete with Blacks for jobs and social services?
It could get worse….
"I think we're going to see homelessness increase," said Sean Read, chief program officer at Friendship Place, a nonprofit that serves homeless individuals in Washington, D.C. Homelessness is "generally a delayed response" to economic setbacks, Read noted.
Nevertheless, NPR goes on to say a lot will depend on how much money the Biden administration will make available for America's homeless people.
But, not a word about what the border jumpers will add to the cost of stemming the tide of America's growing poverty.  And, we haven't even talked about crime growing along with poverty.
I'm wondering what kind of world are we leaving for our children and grandchildren?
Related!
Not just illegal aliens, see that the Biden refugee contractors are out and about in America looking for fresh territory in which to place legal third world migrants from Asia, Africa and the Middle East.
So, if your town doesn't have homeless camps yet, don't despair, Biden's Open Borders will surely get you to poverty-parity real soon!
At RRW on Saturday:
It Begins: Federal Contractors Out Scouring America for New Target Towns for Biden Refugees