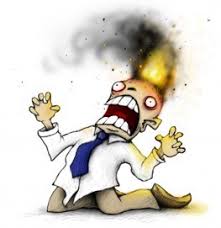 The Progressive Leftwingers are masters at keeping the political pot boiling. You can do it too!
Make their heads explode!
Surely you saw the stunt a couple of Trump supporters pulled at Yankee Stadium on Thursday.  It was a peaceful protest, no one was hurt, but the reaction by the media was swift and angry, and fun to watch.
Reportedly fans in the stands booed the message, but hundreds of thousands of Trumpsters cheered at home.
If you missed it, here is the NY Post quoting a reporter who called it a "conspiracy theory banner."
Men booted from Yankee Stadium after displaying 'Trump Won' banner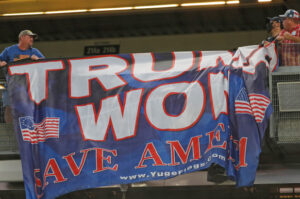 And, what about those audits?
Have you been following especially Arizona right now?  If you were confident in your assertions that no massive fraud occurred why would you fight so hard to stop that audit and all of the others bubbling up?
You would think that Biden/Harris would be eager to prove they legitimately won and be demanding audits!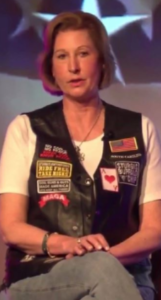 You gotta love Sidney Powell who spoke at a Dallas event and answered a question we have all had in our minds.  What happens if massive fraud is revealed in several key states? Will the election be overturned?
Gateway Pundit reported her answer:
Sidney Powell: We're definitely in uncharted territory. There are cases where elections have been overturned. But there's never been one at the presidential level where everybody will jump to point out. That doesn't mean it can't be done, though. There's always the first case. And as far as I know, this is the first case of abject fraud and obtaining a coup of the United States of America. So, it's going to have to be dealt with. It should be that he can simply be reinstated, that a new inauguration day is set. (cheers) And Biden is told to move out of the White House. And President Trump should be moved back in.
She is right.  This could be accomplished.
Otherwise we keep stirring the political pot and wait until 2024.
There is no way Biden will make it that long.  Kamala is too wildly UNPOPULAR and dimwitted to win on her own. Did you see her tone-deaf tweet for the weekend set aside to remember our fallen heroes!
Criticism was swift, brutal and justified.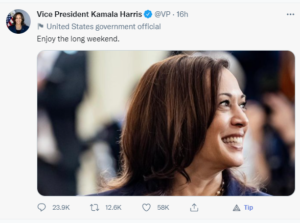 But, the question is, how much damage will they do before they get the heave-ho?  A lot!
For instance, see my posts at RRW about the Unaccompanied Alien Children (aka New Democrats) who are arriving by the tens of thousands—changing America every day that those two remain in charge.