This is a John Earle Sullivan update…
My previous posts on the creep, Sullivan, are here.
From the Epoch Times which I highly recommend.  I'm getting their paper edition and loving having a serious newspaper to hold in my hands about once a week!
DOJ Seizes $90,000, Charges Black Lives Matter Supporter Allegedly 'Stormed Capitol,' Sold Footage to News Outlets
The Department of Justice (DOJ) seized $90,000 from a Utah man who sold footage of Ashli Babbitt being shot during the Jan. 6 Capitol breach, according to court filings filed by federal prosecutors.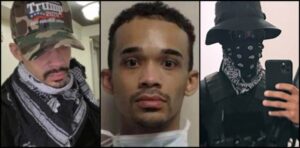 John Earle Sullivan, a political activist who reportedly attended Black Lives Matter protests last year and who allegedly agitated rioters inside the Capitol, was also charged with new weapons charges, according to the documents unsealed last week.

So far, more than 400 people have been charged in connection to the breach, which occurred as members of Congress were voting to certify the 2020 presidential election.

According to the court documents, Sullivan portrayed himself as an independent journalist who was reporting on the chaos, but he actually encouraged other participants to "burn" the building and engage in violence.

Sullivan is accused of having a conversation with others who breached the building and allegedly told them: "We gotta get this [expletive] burned," according to court documents in his case.

"There are so many people. Let's go. This [expletive] is ours! [Expletive] yeah," he allegedly cheered after he and protesters entered the Capitol, the DOJ documents said. "We accomplished this [expletive]. We did this together. [Expletive] yeah! We are all a part of this history," and "let's burn this [expletive] down." The documents accused him of calling on others to burn the Capitol down multiple times.

At one point, he's also heard saying, "I am ready bro. I've been to too many riots. I've been in so many riots," the documents said. "It would be fire if someone had revolutionary music and [expletive]," prosecutors said Sullivan told others on Jan. 6.

[….]

Sullivan sold that footage to several news outlets for a total of $90,000, according to a seizure warrant. The news outlets were redacted from the warrant.

After the breach in January, Sullivan appeared on several corporate media outlets including CNN and MSNBC.
And then get this—something you won't be seeing in the corporate media because it doesn't fit the Left's narrative:
Using the nickname "Jayden X" online, Sullivan tweeted just days before the Capitol breach that the system should be burned to the ground while adding Antifa, anti-capitalist, anti-Trump, and Black Lives Matter hashtags.

And on Jan. 2, just days before the breach, Sullivan's account wrote: "[Expletive] The System – Time To Burn It All Down. #blm #antifa #burn #[expletive]thesystem #abolishcapitalism #abolishthepolice #acab #[expletive]trump."
For more on a thorough report, go here.
And for even more details on the feds confiscating Sullivan's ill-gotten gains go here and see the "crime doesn't pay" message.
Spread the story around because I see there has been very little reporting on this latest news.