Update July 1st:  John Binder at Breitbart is on it!  The alleged killer came to the US on a student visa and then married an American in order to obtain his US citizenship (then he divorced her). See here.
Update June 30th:  CNN posted an update last night about what they know about the man arrested in the horrific murder of MacKenzie Lueck.  Well, CNN knows squat (or more likely they don't want viewers to know squat!).  See what I said here.

I was running errands today when I heard the news on the radio that a "Salt Lake City man" had been arrested in the murder of missing college student 23-year-old University of Utah senior MacKenzie Lueck.
As soon as I heard his name—Ayoola Ajayi—-I knew they were talking about another new American criminal from Africa.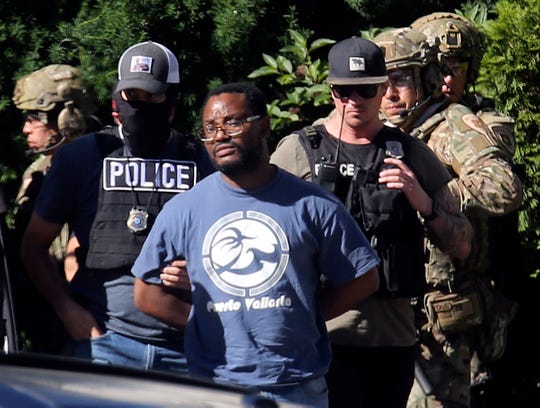 But, interestingly, when I got home and started searching for the news, I went through many news accounts that never mentioned that Ayoola Adisa Ajayi was not an American born killer (I know I should say "alleged" killer, but when you learn more about the story, the horrific end to a beautiful young woman's life at the hands of Ajayi is pretty clear cut).
The arrested African man (not a "Salt Lake City man") is described by many as a smart computer techy who cared about appearances. Well, he sure was a stupid murderer.
What! He didn't think his cell phone might be in the same location as hers on the night she disappeared!  And, he didn't think anyone would notice that he set a big fire in his own yard in an effort to erase her existence?
How do people like this animal get into America in the first place!

The Salt Lake Tribune has a pretty good summary of what happened so far.  It was the first story I saw that gave any hint of the Nigerian connection.
Police arrest Ayoola Ajayi and seek aggravated murder charges in the death of MacKenzie Lueck.
Investigators say missing University of Utah student MacKenzie Lueck has been murdered — and police have arrested a Salt Lake City man they say killed her and burned her body.


He burned her body in the back yard.


Ayoola Ajayi, 31, has been booked into jail on suspicion of aggravated murder, aggravated kidnapping, desecration of a body and obstruction of justice after a SWAT team took him into custody Friday morning at a West Temple apartment complex, said Salt Lake City Police Chief Mike Brown.
"I will not be saying the killer's name again," Brown said.
Why doesn't he want to say his name? Is it because it reminds everyone that the alleged murderer is African?
The Trib continues…..

Lueck, a 23-year-old University of Utah student, has been missing since June 17, when she arrived back in Salt Lake City from California, where she was attending her grandmother's funeral. She texted her mother when her flight landed about 1:30 a.m. and then ordered a Lyft to Hatch Park in North Salt Lake, nearly 9 miles from her home near Trolley Square, Brown said.
Her parents reported her missing June 20, and the search since then has drawn national attention.
[….]
On Wednesday, investigators began an all-night search of Ajayi's home in Fairpark.
Neighbors reported seeing Ajayi using gasoline to burn something June 17 and 18 in his backyard, Brown said, and police found a "fresh dig area" in the same spot in the yard. They conducted a "forensic excavation" of that part of the yard and found several charred items matching the description of Lueck's personal belongings, Brown said.
Police also found charred human tissue, Brown said. DNA testing showed a match for Lueck.
[….]
Brown said he didn't know where or when Lueck was killed. Other than saying "tissue" belonging to Lueck had been found, the chief declined to say what remains have been recovered.
Much more here.  A former roommate said Ajaya "tends to have some anger issues."
More at Heavy….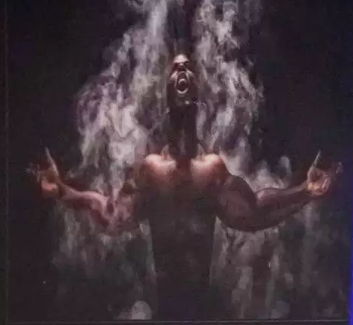 It was at Heavy.com where we learn that the 'new American' was from Nigeria.
Here is his booking record: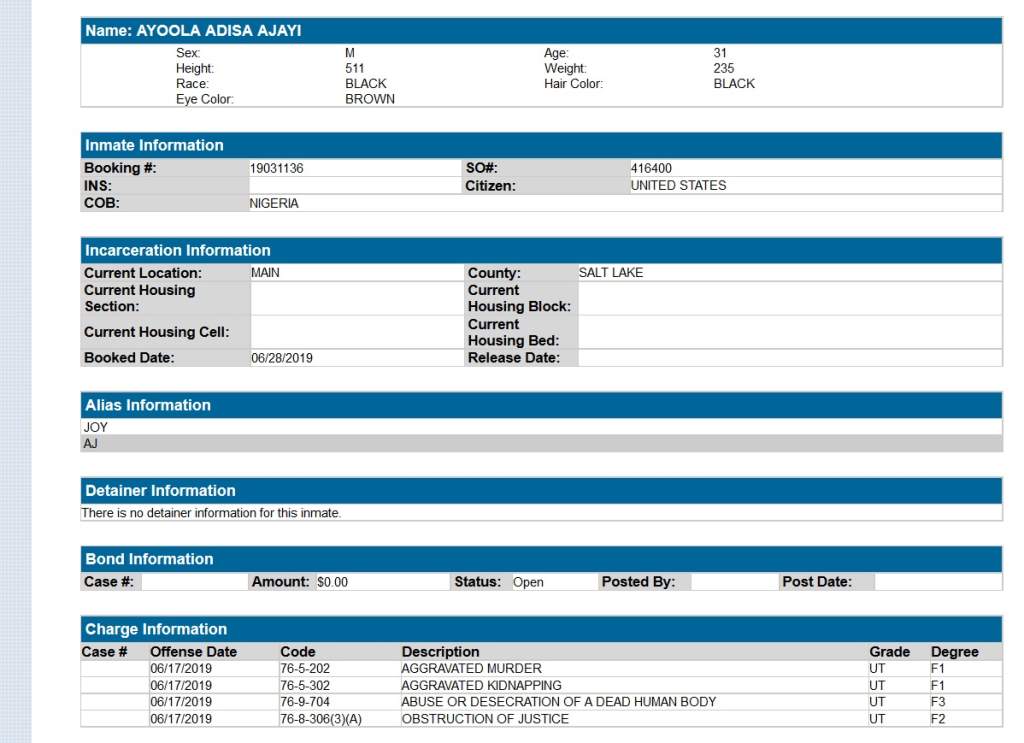 When did he come?  How was he admitted to the US, through which legal program? Or, was he originally an illegal alien?  Did he overstay a visa? How and when did he become a US citizen? Was he in Utah because it has become a 'welcoming' state for Africans?
By the way, you will see references to his time in the military as if some Leftwing media are trying to link him to the military rather than to our flawed immigration system, but Heavy.com says this:

"Private Ajayi was a member of the 214th Forward Support Company based out of Tooele, Utah, but did not attend Basic Training or Advanced Individual Training. As a result, he did not receive any certificates or awards from the Army National Guard. He was therefore ineligible to deploy or conduct any tours of duty with the Utah Army National Guard."
Go here to see a whole pack of lies Ajayi was peddling!
Again, how did he come to be among us in the first place!  (Unfortunately, I suspect we will never be given that information.)