Editor:  I actually started this post yesterday BEFORE the murder charges were filed, but never got it posted. 
This morning I see the charges have now been filed, and, believe it or not, CNN is running the story with this headline.  See here.  (Too funny, that they have to put Trump in the headline! What the heck will they do when he is no longer President!)
Undocumented immigrant cited by Trump charged with four murders
This is the post I wrote yesterday: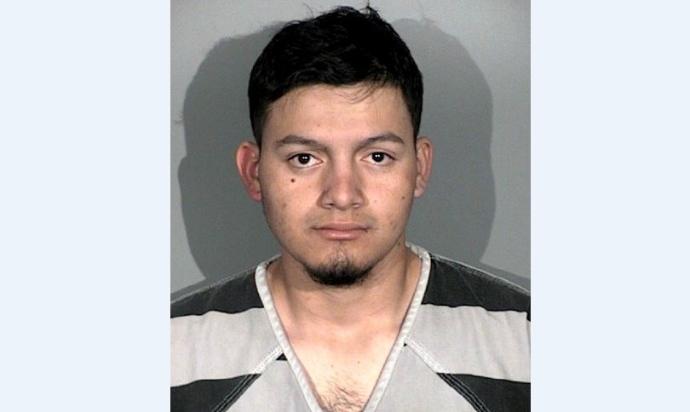 I was planning to tell you about this news from last week where the Reno Gazette Journal interviewed Wilber (sometimes spelled Wilbur) Marinez-Guzman's friends who painted a sympathetic picture of the 19-year-old illegal alien from El Salvador, when I saw this story about the murders at CNN.
Wow! CNN reported at least this much!  However, interesting that they bring the President in to the story in the headline as if his mention of the crime (related to the wall) is somehow a bad thing!
Undocumented immigrant admits killing couple in spree cited by Trump, police say
An undocumented immigrant has admitted to killing a Reno, Nevada, couple using a gun he stole from their home, police say in a probable cause document.
President Donald Trump recently cited the killings and two others in a tweet in support of building a wall on the southern US border.
"Four people in Nevada viciously robbed and killed by an illegal immigrant who should not have been in our Country," the President tweeted Monday. "We need a powerful Wall!"


CNN doesn't show a picture of the victims.


The four people referenced include the Reno couple, plus two women who police say were victims of homicide in nearby Douglas County.
Connie Koontz, 56, was found dead January 10 in her home, and Sophia Renken, 74, was discovered dead January 13, also in her home.
Jerry David, 81, and his wife, Sherri David, 80, were found killed January 16 in their Reno home.
Investigators also discovered that possessions, including firearms, were stolen from the victims' homes.
Wilber Ernesto Martinez-Guzman, 19, was arrested January 19. He was arraigned Thursday on 36 charges of burglary, possession of stolen property and obtaining money by false pretenses.
Prosecutors said he was found with weapons and other items stolen from the homes of the four victims.

Some of the victims knew Martinez-Guzman which suggests he had possibly cased their homes in advance—-a lesson to the soft-hearted!
Update:

See the shocking timeline of how he murdered all four. 
Martinez-Guzman told investigators he killed Jerry and Sherri David with a gun stolen from their home and said where he buried the firearm, according to the probable cause document. Ten additional guns were found at the same location.
In Martinez-Guzman's home, police say they found an iWatch and Mac computer stolen from Koontz at the time she was killed.
There were no signs of forced entry at any of the crime scenes, and police have determined that Martinez-Guzman was familiar with all four victims, Douglas County Sheriff Dan Coverly said.
More here.
My previous posts on the case are here.
The lesson to all of you:  Never permit a company (or an individual) to work at your home if workers are in the country illegally.
It is important for you to keep the story alive. According to CNN Martinez-Guzman will not be in court again until February 8th and by then the media will have moved along.