But, if they couldn't join ISIS they planned to kill some kuffar!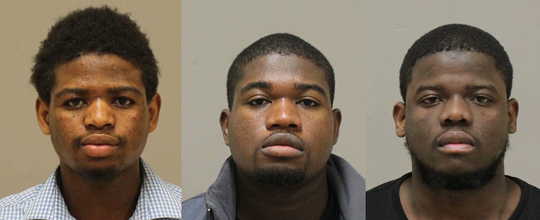 According to the Lansing State Journal:
The men discussed terror attacks and sacrifice in multiple exchanges as well as their desire to kill "kuffar" — the Arabic word for a non-believer.
Bet you didn't see this news on CNN, MSNBC or maybe even Fox News.
But, here is some pretty good reporting at the Lansing State Journal (hat tip: Leo):
LANSING – More than two years of investigation using Facebook and undercover agents led to Monday's arrest of three Lansing men, who are now charged with conspiring to provide "material support" to an Islamic State group.
Muse Abdikadir Muse, Mohamud Abdikadir Muse and Mohamed Salat Haji were arrested Monday at Gerald R. Ford International Airport in Grand Rapids by members of the FBI Joint Terrorism Task Force federal records show. They face up to 20 years in prison.
But who are they, how did the FBI find them and what did investigators find that led to their arrest?

Wow! A reporter actually tells us more than we usually hear about their immigration status. You can put away your secret decoder ring. "New Americans" all!

Who are these men?
Mohamud Abdikadir Muse is 23. He's also known as Abu Osama Almuhajir.
Muse Abdikadir Muse is 20. He's Mohamud's younger brother and is also known as Ali Almuhajir.
Mohamed Salat Haji is 26. He is Muse and Mohamud's cousin and brother-in-law, according to federal documents. He's also known as Salamujahid Almuhajir.
All three men were born in Kenya. [I'm guessing they were born in one of the big UN camps that house mostly Somalis. We take huge numbers of refugees from these camps.—-ed]
The Muse brothers became U.S. citizens when their parents were naturalized.
Haji is also now a U.S. citizen.
All three have pledged loyalty to the Islamic State of Iraq and al-Sham, according to a federal complaint filed in Grand Rapids.
The investigation began when the three yakked on Facebook.
How did the FBI find the men?
According to the federal complaint, a Facebook account for "Mohamud A Musa" caught the eye of FBI agents around April 2016.

Continue reading here for the details!
I'm not going to tell you more because I want you to visit the story and send traffic to the Lansing State Journal.

What do you do?
It is your job to make sure the story breaks through the mainstream media shield of silence!
Send this news out far and wide through your social media accounts. It is one more story that should be on every cable news network and in the big papers, but it likely won't be because it doesn't fit the Leftwing media's world view.
New to Frauds and Crooks? See my Welcome post, here.