You may have seen the sad news, but I wanted to be sure I had it archived here at 'Frauds and Crooks.'
From the Sun-Sentinel:
He stole a car and left a disabled dog to die in the back seat, authorities say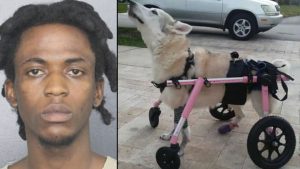 A 19-year-old man has been arrested in the death of a disabled dog after police say he stole a Volvo and left the beloved canine trapped inside the car to die of heat stroke.

Jephthe Jeanfrancois [some news accounts split this name making it Jean Francois.—-ed] was arrested on 15 charges including multiple counts of burglary, grand theft and causing suffering and death to an animal, records show.

Jeanfrancois appeared in court Thursday representing himself and declining the services of a public defender. Assistant State Attorney Eric Linder said in court Thursday that when Jean Francois broke into the car, the handicapped dog was in the back seat.

"He stole the vehicle, he discarded the vehicle, leaving this dog stranded to its own devices locked in the car," he said. "When the car was later found, the dog was found unfortunately deceased and what I can only imagine greatly suffered."

[….]

Linder said when Jeanfrancois was caught, his GPS monitor — from previous charges from a separate case — placed him at the parking lot when the car was stolen.

Wanda Dushan Ferrari said her dog, Zorra, went missing Oct. 3 from a shopping plaza in Oakland Park off North Andrews Avenue. She said Zorra was a 13-year-old Husky-Shepherd mix weighing 45 pounds. Because of hip ailments, the dog was paralyzed in her rear legs, and used a pink dog wheelchair.

[….]

Ferrari said she had run inside a Dollar Tree to get cash because a nearby gas station's card reader was broken. The windows were down and the engine was running, according to a Sheriff's Office report. Her faithful companion since the dog was 2 months old was patiently waiting. When she returned after 10 minutes, the car — and her dog — were gone.

"Zorra was my world, my heart, my soul. I don't know what I'm going to do without her."

"I can't take this," she said crying.
More here.  See how the police caught him after a string of burglaries and additional car thefts.
The Illegal Alien Crime Reporter has identified the creep as an illegal alien from Haiti as do other news stories.
Open Borders, Inc. loves to tell heart wrenching stories about migrants at the border suffering at the hands of our President because they want to reach uninformed Americans through their emotions.  We really need to do a much better job of telling stories like this one and many many others I've posted here at 'Frauds and Crooks.'
In fact, if I were the President, I would tell a couple of stories like this one at every rally he holds and showcase some of the dreadful people who are among us thanks to groups like Church World Service demanding access to America for every creep in the world.